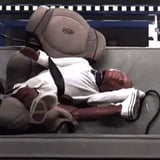 My youngest daughter recently turned 3 years old. She weighs just over 30 pounds. If I wanted to finally be done with her bulky convertible car seat the one that's difficult to install, the one that weighs as much as my kid does, the one that takes up so much space in our small car and is impossible to clean I could go and pick up a "big kid" booster seat that, according to the label and manual, is safe for my child.
But then I could drive her to gymnastics class, get into a side-impact collision, turn around and find her slumped forward. She could be "internally decapitated," and permanently paralyzed from the neck down.
Three years ago, this happened to someone else's daughter. She was properly belted into the Evenflo "Big Kid" booster seat, and at 5 years old, she was well over the minimum age requirement. At just under 37 pounds, she was also within the size restrictions. But when a vehicle slammed into the driver's side of her car, her shoulder slipped out of the seat belt.
"As her chest and stomach jackknifed over the lap portion of her seat belt, her head rotated downward and stretched her neck," detailed the ProPublica journalist who has been investigating Evenflo's car seat safety since this girl's father filed a lawsuit against the manufacturer.
"The company's test bar was so low, the only way to fail was if the child-sized dummy ended up on the floor or the booster itself broke into pieces."
The ProPublica investigation which used "years of Evenflo's side-impact test videos, thousands of pages of sworn depositions of company employees, and marketing materials" to illustrate how such brands seem to devalue child safety over potential profits outlines hard-to-believe practices that could potentially span the millions of booster seats sold by any number of companies in the US.
It's a damning report that has to be the final piece of evidence we parents need to be more diligent about the car seats we put our kids in.
For proof, you just need to watch the video of Evenflo's internal side-impact crash tests using a dummy modeled on a 3-year-old that looked, as Dr. Ben Hoffman the pediatrician heading up the American Academy of Pediatrics car seat recommendations said, "horrific."
He added: "I can't imagine it being in any way, shape, or form better under real-life circumstances."
Turns out, Evenflo passed these crash tests, an easy feat when you can make up your own test and grade it yourself.
As ProPublica noted, "the company's test bar was so low, the only way to fail was if the child-sized dummy ended up on the floor or the booster itself broke into pieces."
And even though the tests clearly showed the dummy being thrown far out of the shoulder belt, Evenflo still used the phrase, "side-impact tested" on labels and promotions, which if you are like me, leads you to assume it passed rigorous testing using realistic, comprehensive simulations.
"We side-impact test our seats," a former Evenflo engineer said in a deposition. "But I don't think we say that we offer any type of side-impact protection."
I could buy one of these booster seats for my young child today. And, more likely than not, I'll probably be able to buy one a year from now, too.
Companies can't get away with this, can they? Thanks to regulatory failure, they very easily can. Although Congress put into law 20 years ago a requirement that the National Highway Traffic Safety Administration develop side-impact testing rules for car seats and boosters, it hadn't completed the task eight years later. Finally, in 2014, a test was proposed. But, six years later, it's still being lobbed back and forth between regulators and manufacturers over what qualifies as a good test.
This is the reason that today, according to ProPublica, "those seats need only pass a crash test that simulates a head-on collision."
And it's the reason that there's no way for parents to know if their children are at risk in other booster seats because they all technically comply with federal regulations. Every other company works under the same ineffective regulatory landscape that doesn't demand even the most basic side-impact test standards. There's no federal data, no list of approved boosters or list of dangerous ones. Just some well-intentioned guidelines doled out by your pediatrician.

The AAP has issued the following car seat safety recommendations:
Infants and toddlers should ride in a rear-facing car seat as long as possible, until they reach the highest weight or height allowed by their seat. Most convertible seats have limits that will allow children to ride rear-facing for two years or more.
Once they are facing forward, children should use a forward-facing car safety seat with a harness for as long as possible, until they reach the height and weight limits for their seats. Many seats can accommodate children up to 65 pounds or more.
When children exceed these limits, they should use a belt-positioning booster seat until the vehicle's lap and shoulder seat belt fits properly. This is often when they have reached at least 4 feet 9 inches in height and are 8-to-12 years old.
The guidelines are just that. They are nearly unenforceable on a federal level, and when car seat companies don't follow suit but instead use deceptive marketing tactics, unassuming parents end up transitioning their kids into booster seats earlier simply because they can. Pile on the fact that booster seats are generally easier for car-swapping parents to handle and demonstratively less expensive, and it's closer to an inevitability that more 37-pound 5-year-olds will be sitting in one.
Following ProPublica's inquiries, Evenflo updated its website to raise the minimum weight limit to 40 pounds, but when the publication ordered one, it arrived with a box and label that still said it was "safe for children as small as 30 pounds."
I could buy one of these booster seats for my young child today. And, more likely than not, I'll probably be able to buy the very same one a year from now, too. But I won't. I know too much. Yet oddly, like so many parents trying to navigate these confusing marketing ploys and safety guidelines, we still are told far too little.