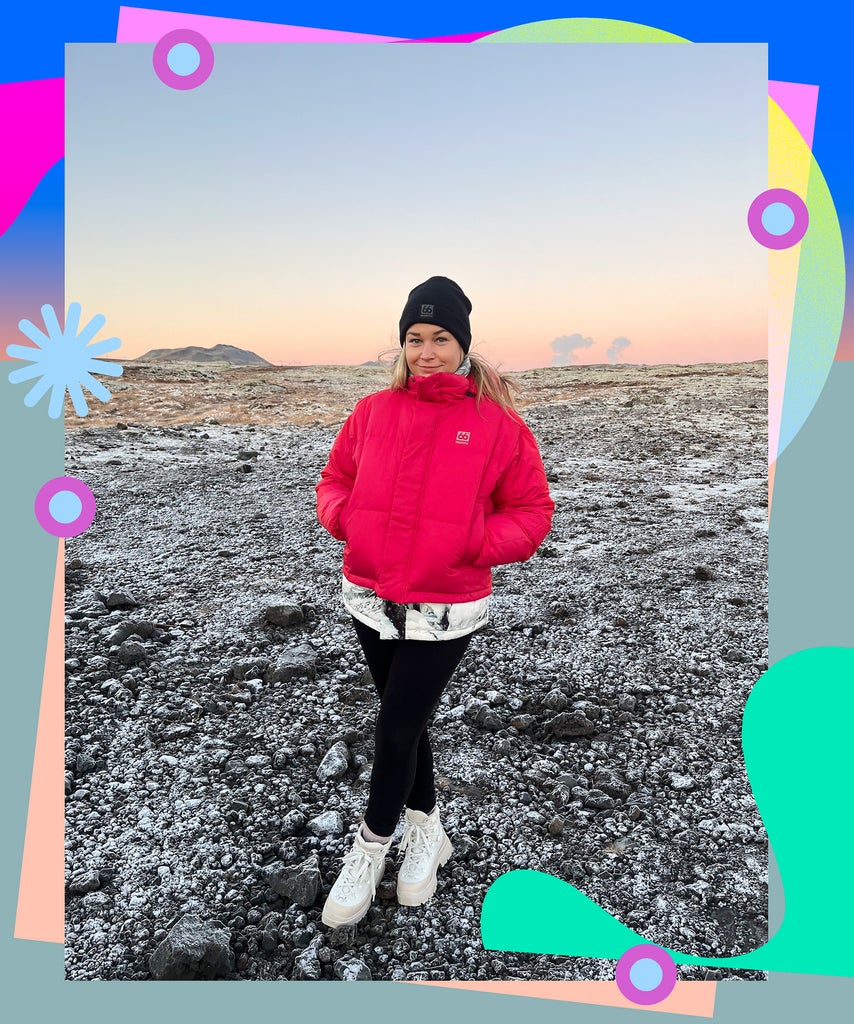 In November 2018, I went to Iceland for the first time. While I was ready for the neon green Northern Lights, hot springs among the snow, and the Reykjavik hotdog stand (no, really) that the trip promised, I was not prepared for the Icelandic winter. As I traversed the ice caves of Langjökull, the second-largest glacier in the country, I discovered that my warmest coat and fleece-lined pants were no match for the subzero temperatures. Yet the locals seemed undisturbed by the chill that surrounds many of the country's famous (and famously outdoorsy) landmarks. Most of them were also dressed in outerwear marked by a gray square logo that read 66°North.
While prior to the trip I was unfamiliar with the Icelandic brand, walking inside one of the several stores that dot the city center, I quickly understood why it was a local favorite thanks to its assortment of winter essentials — puffer jackets, wool sweaters, and insulated pants — necessary in a country where the sun doesn't rise until 11am and goes down by 4pm come cold-weather season. While I settled for a beanie hat on my first store visit, I was back the following day for more pieces as I continued my trip with activities that ranged from ATV tours to laying outdoors at night while waiting for the elusive aurora.
Founded in Suðureyri (located on the 66°N latitude line which inspired the name) in 1926 as an outerwear company for fishermen, as well as search and rescue teams, who had to brave Iceland's notoriously harsh winter conditions, 66°North has since evolved into a lifestyle brand with products extending into printed sweaters and even swimwear. With partnerships with Ganni and James Merry (visual artist and frequent Björk collaborator) under its belt and storefronts in Denmark and London, the brand has recently made news for its appointment of Kei Toyoshima, former head of menswear at Bottega Veneta and Haider Ackermann, as creative director.
Years after I was first introduced to the brand and learned about its cult-like following — there was more than one occasion where I got stopped on the streets of New York while wearing 66°North to be asked where the brand's nearest store was (as of right now, there are none) — I came back to Iceland this December to visit the flagship in Reykjavik, as well as further explore the country that continues to inspire the brand. 
Ahead, the clothing items that got me through this winter getaway, and guarantee a warm winter back in New York.
What To Wear In Iceland Winter: Outdoor Adventure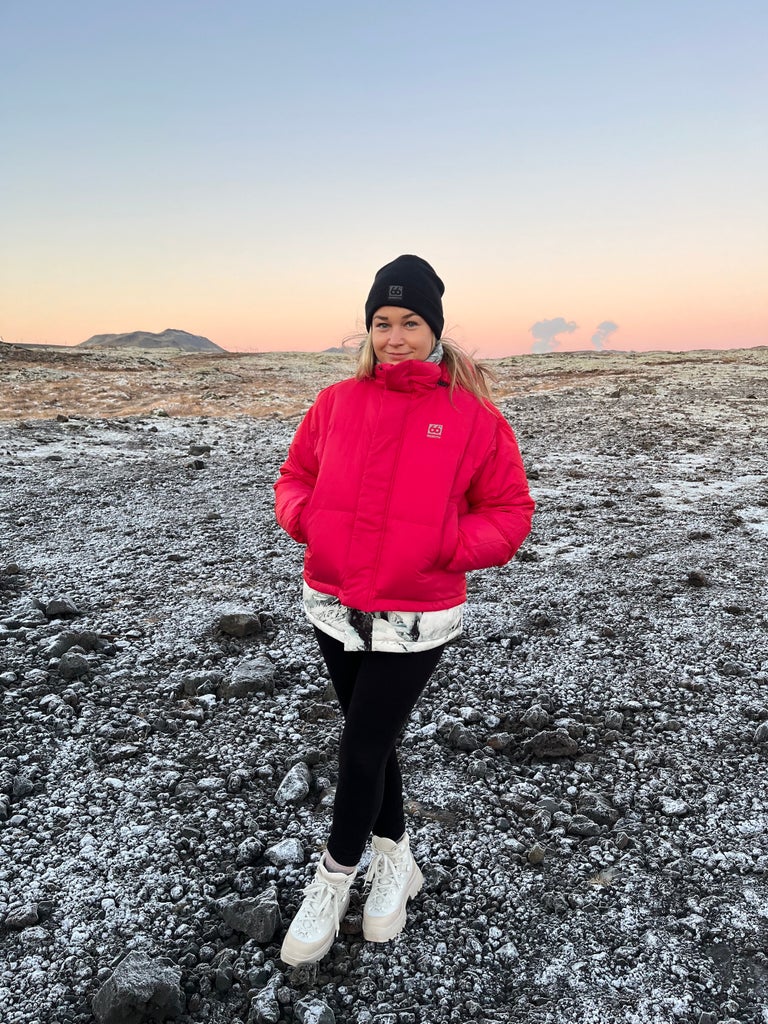 As I learned from both of my trips to Iceland, base layers are key. If your itinerary involves any excursion outside, like my tour of the lava caves (which are anything but lava hot), start with a breathable base in a material like wool that, unlike cotton, won't leave you soaked and cold in the long run. Follow it with a mid-layer like a fleece pullover or, in my case, a down vest that insulates and traps body heat. Top it all off with waterproof hiking boots (worn over wool socks) and a wind-proof or wind-resistant shell. For the latter, I went with a recycled down jacket, made from used clothing and bedding, though I would recommend a longer-fitting parka for a more extended outdoor tour.
What To Wear In Iceland Winter: Daytime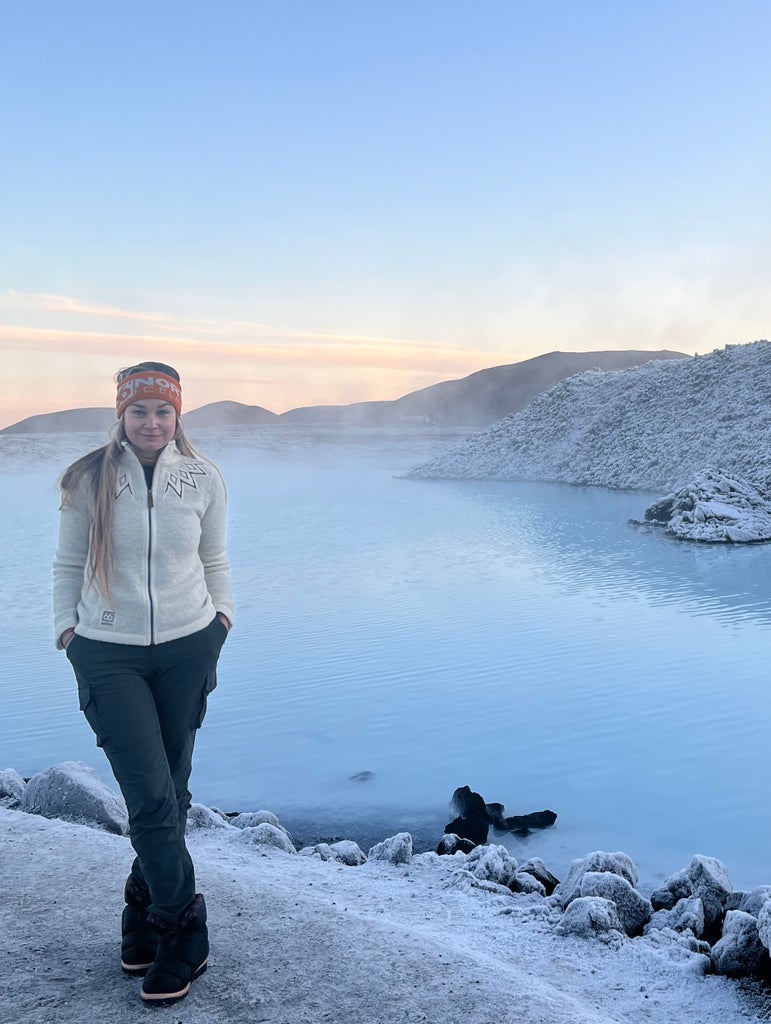 For a trip to the Blue Lagoon, which involves one stripping down to a bathing suit in the cold before entering the hot spring, I opted to wear my one-piece as a bodysuit underneath a traditional Icelandic wool sweater, known for its graphic pattern and heat retention. I made up for the lack of a top shell layer by pairing the look with a pair of water-resistant pants, which came in handy after I emerged from the geothermal waters back into the cold, and a headband that I kept on while soaking in the deliciously warm lagoon.
What To Wear In Iceland Winter: Night Out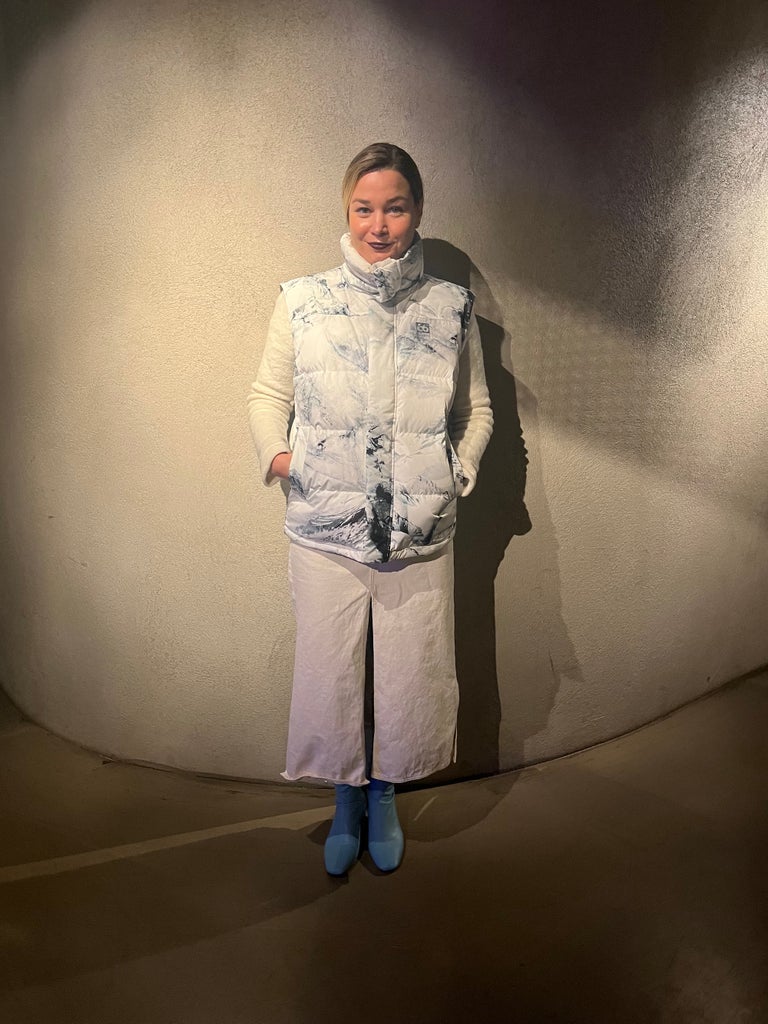 Unless I have to travel far or face elements like snow or rain, I avoid wearing outerwear while going out at night, which, in this case, involved me making my way from my apartment to a restaurant for dinner and a bar afterward. For this winter white look, I chose two layers — a HeatTech turtleneck underneath the same Icelandic wool sweater and wool tights underneath a midi skirt and knee-high boots — and topped it off with a high-collar down vest featuring a glacier print made from images captured by Benjamin Hardman in Iceland. Bonus tip: Supplement the lack of true outerwear by accessorizing with some fun (wool) mittens and a hat that you can take off while indoors.
At Refinery29, we're here to help you navigate this overwhelming world of stuff. All of our market picks are independently selected and curated by the editorial team. If you buy something we link to on our site, Refinery29 may earn commission.
Like what you see? How about some more R29 goodness, right here?