Are you looking forward to wearing your bathing suit or bikini again, or are you dreading it? I'm sure that right now all of us are looking forward to the possibility of travelling again so much that our body shape isn't of so much concern. However, finding a great bathing suit is never easy so I'm here to help and have selected some of the best bathing suits for women over 40 this summer.
You may one day go to the dead sea and float in the water, go for a wonderful beach holiday or plunge into a natural pool in the jungle. Or you may just be enjoying the sunshine in your back garden. Either way, you may as well look good!
This time of year is perfect for swim suit hunting
If you're thinking of getting a new swim suit, now is the best time to buy as the selection is usually the biggest.
You will have plenty of opportunity to try on a few swimsuits at home. Plus, choosing a new one may help to give you something to look forward to when travel, or exercise at your nearest pool, becomes a possibility once more.
Many of the options shown below are comfortable and flattering for women over 40 so you can be sure you will step out on the beach or swimming pool in confidence AND style.
Where to buy swimsuits: Brands to consider
If you aren't sure where to start your search, some great brands to consider for swimwear include:
What swimwear will you wear this summer?
Are you still wearing bikinis or do you prefer bathing suits?
My preference is still for a bikini as I find them more comfortable and, on my body, still more flattering.
However, when I go snorkeling or do some serious swimming I wear a rash guard, which is why I have included some in this list too.
I'm not interested in getting a tan and always protect my skin with high SPF sunscreen.
Here is why I feel you too should embrace your beautiful pale skin!
Whatever your preference, you're sure to find something you like in my selection of bathing suits, bikinis and rash guards.
What I bought for my last summer vacation and my current favorites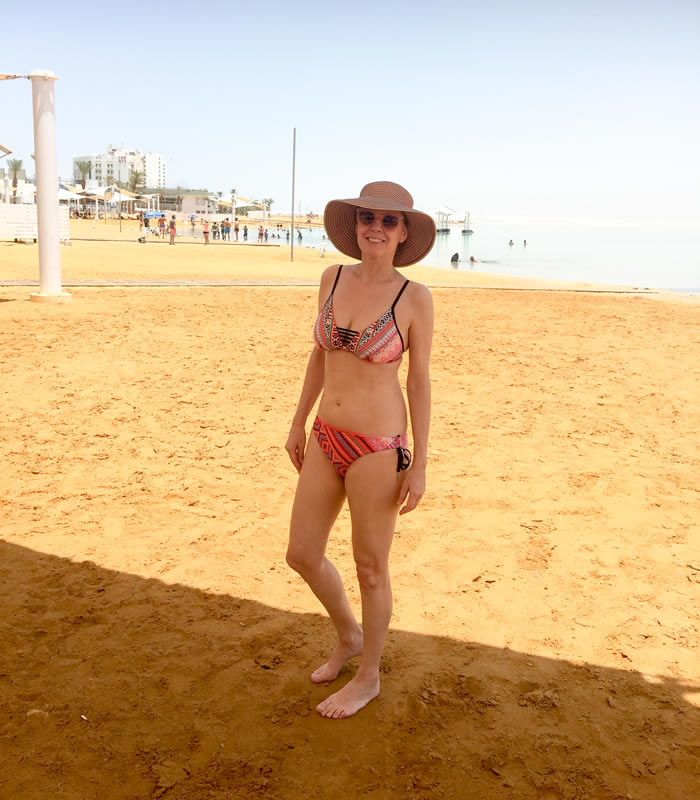 Like many of you, I don't enjoy buying swimwear, but I have recently splurged on some swimwear as I hadn't bought any new pieces in years and I think what I bought now will last me for at least 5 years. I stumbled upon the brand Seafolly and fell in love.
These pieces are high quality, have a wonderful tactile feel and are comfortable. Check out their current collection at Nordstrom and at Amazon.
I bought this bikini top (below) with this brief. It's a style that still remains available this summer.
Seafolly longline triangle bikini top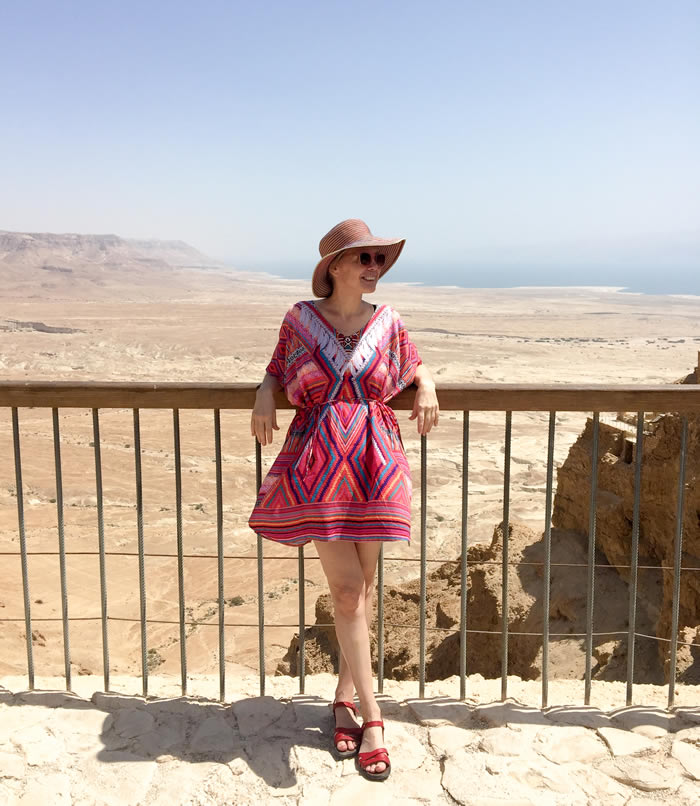 I got the kaftan in this design as well.
Best bathing suits for women: Below are other pieces I loved and considered
If you like your bathing suit to be slimming, you may like to choose an optional illusion swim suit like this one, also from Seafolly.
Seafolly block diamond swimsuit
One of my favorite Seafolly bikinis
I love this stripe bikini which is classic and flattering.
Seafolly striped v-neck bikini top
Singlets and rash vests
As my body is long, a bathing suit usually doesn't fit me so I prefer to wear separates.
If I'm snorkeling or I know there won't be a lot of shade, then I'll opt for a rash vest. But I also love a tankini.
You could opt for this tankini top from Seafolly in classic monochrome.
Seafolly tunics
You can also get some great cover-ups from Seafolly.
This shirtdress would be a good option if you want to pop a cover-up on to offer coverage and a little sun protection.
One-piece bathing suits
Nic (above) wears a stylish giraffe-print black and white swimsuit with a v-neck.
Recreate her look with this similar one-piece bathing suit, straw visor and sunglasses.
I also really like the draped bathing suits from Miraclesuit, which I believe are perfect for women over 40.
Their bathing suits have strengthened panels to tuck in the tummy area and the drapes hide the bulges so you will look streamlined and beautiful. This swimsuit below has a flattering illusion style designed to create a slimming effect.
Miraclesuit Genesis Temptress swimsuit
You could also try the suit below in beautiful olive.
Miraclesuit Razzle Dazzle Siren swimsuit
Or, how about this monochrome one-piece with a cut out neckline and two-tone effect. This could be a good option if you are pear shaped as it will draw attention to your top half.
Miraclesuit Pyrite Escape swimsuit
Black swimsuits or navy
You really can't go wrong with a flattering black swimsuit, in the same way as a little black dress will never go out of style.
Another brand that makes fun swimwear with especially great rash guards is Tommy Bahama.
This Tommy Bahama option has flattering ruching if you are looking to hide a belly.
Land's End also has a good selection of swimwear in many sizes.
Lots of ladies in the 40+Style community have recommended Land's End for their flattering, good quality, styles, particularly for those struggling to find a flattering shape and the right support for larger busts.
There are some good, figure-flattering options, including this wrap swimsuit (below) in a classic shade of navy.
Rash vest picks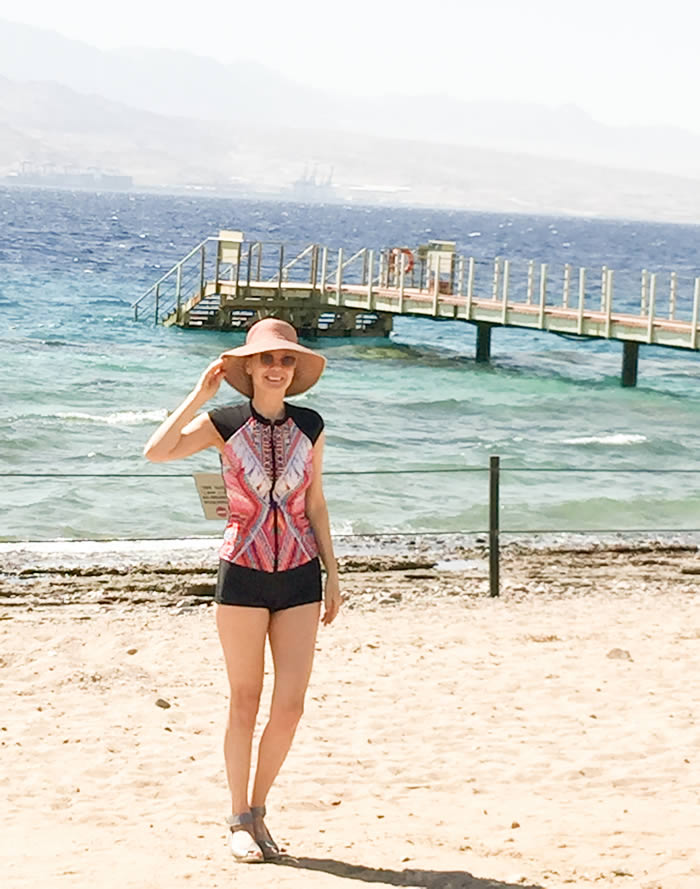 I am a big fan of rash guards. I love how they protect my skin and many are very sexy too.
I always wear them when I do some serious swimming or go on a snorkeling trip or white water rafting.
Mine is no longer available but this rash guard from Amazon comes in different colors and has good reviews.
ATTRACO color block rash guard
This one is gorgeous too and it is the #1 best selling rash guard in Amazon.
For a classic style which looks like a Breton top, you could also try the striped rash guard below.
Bikinis
I still love bikinis and when I'm not snorkeling or spending a lot of time in the water, that is what I will wear.
I usually opt for ones that have good coverage of the breasts and which have a higher brief. I also like briefs that have small pipes, so I don't have to constantly keep up my bikini line!
Krista (above) opts for a beautiful high-waisted bikini.
Get her bikini set, light topper, tote, sunhat and necklace from Amazon, and her sunglasses from Quay Australia.
I also like the extra coverage offered by this bikini set from Amazon (below). It is still on trend because of the layered top and retro-style bottoms, but isn't as skimpy as many bikini bottoms in stores now.
Or, how about a retro style to offer more coverage?
Tankinis
A great hybrid between the one-piece swimsuit and the bikini, tankinis can be a fantastic option if you don't feel tummy confident, but you want to wear a two-piece.
It also means you can mix and match, perhaps opting for a bikini top one day for sunbathing, and the tankini top when you want more coverage. Here are some of my favorites.
You can wear these tankini tops (below) with your favorite bikini bottoms.
Miraclesuit Razzle Dazzle tankini top
Firpearl crossback tankini top
Swimsuit cover-up selections
Almost just as important as your swimwear, a nice cover-up is essential for any trip to the beach.
After all, you never know when you might want to pop into the beach bar for a cocktail!
I love this cover-up from Elan
You can read more in my article on the best tunics and cover-ups for the beach.
Plus size swimwear
There's some beautifully flattering plus size swimwear and plus size cover-ups in stores right now, which makes the most of curves while providing support where it's needed.
Swimwear which has a retro vibe often works wonderfully for curvy women!
Sandra (above) looks stunning in a forest green swimsuit.
Check out these swimsuit options from La Blanca and Amazon, and this similar pair of sunglasses that you can get from Ray-Ban.
I think this Le Blanca swimsuit is incredibly glamorous, and the reviews on Nordstrom agree.
La Blanca Island Goddess swimsuit
Bathing suits for your body type
As with everything, choosing a bathing suit that you love and which suits you is much more important than opting for the latest fad. Below are some ideas about the best swim suits for your body type.
Small busts
Those with small busts may find that bathing suits with ruffles on the bust and hips add shape, while those with larger busts will need much more support than that afforded by the likes of string bikinis!
Tommy Bahama Pearl flounce tankini top
Hourglass
If you're an hourglass, then you could play up those curves by opting for retro styles, while pear shapes can balance their bottom half by opting for a bikini or tankini with the bottoms in a darker color.
Inverted triangle
Meanwhile, inverted triangles could try halterneck styles like this one from Boden. It is flattering as it shows the collarbone and neckline without adding weight up top.
Rectangle
Rectangles and athletic shapes can either add some curves with embellishments or patterns, or can choose to play up their slim figure by opting for stripes.
Pear
If you are a pear shape, you could opt for a bright color on top and a darker color on your bottoms to draw attention away from your hips and thighs.
Boden Santorini tankini top – Boden swim shorts
Modest swimwear
While swimwear and modesty can seem like an oxymoron, you may like to choose modest swimwear because of religious reasons, because of who you are vacationing with, or because you are self conscious about a certain part of your body.
So, what modesty means will be different for different people. You will need to think about what you want to cover up.
Do you, for example, want a long-sleeve or a high-neck option, or do you want a tankini to cover your tummy, or a skirted swimsuit to cover up your thighs?
Magicsuit Mila romper swimsuit
Miraclesuit Monteverde Mirage tankini top
Do you have a favorite women's swimwear brand? What are you going to wear to the beach this Summer? What do you think the best bathing suits for women over 40 are?
Continue reading:

Like this article on the best bathing suits for women over 40? Save it on Pinterest!
Feature image by Krista
The post The best bathing suits for women over 40 – swim suits that make you feel fabulous! appeared first on 40+ Style.