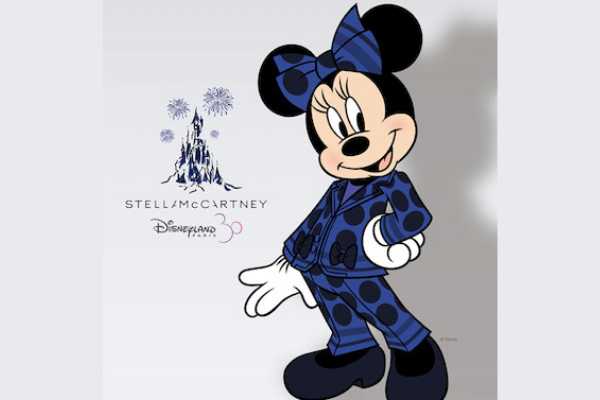 Image via Disney Parks Blog
Minnie Mouse, one of the most recognized Disney mascots in the world, is ditching her dress in celebration of Disneyland Paris' 30th anniversary and Women's History Month. 

Instead of the iconic polka-dotted red number, the character will be getting a chic pantsuit designed by British designer Stella McCartney.
According to The Wrap, she's now fitted out in a royal blue suit jacket and trousers with black polka dots, complete with a matching bow. 

"We're thrilled to announce the First Ultrachic Pantsuit for Minnie Mouse at Disneyland Paris, designed by Stella McCartney herself," Disney said in a statement.

"In honor of Women's History Month, starting on March 6, 2022, find Minnie Mouse at Walt Disney Studios Park as she rocks a new take on her signature polka dots," it added.

Fans who wish to follow in the footsteps of Minnie will be able to purchase an exclusive t-shirt of the character online and at Stella McCartney stores on March 8, 2022, which marks International Women's Rights Day.

Inside the Magic reported that this outfit swap could be part of Disney's push to focus less on the gender divide and become more inclusive to all guests. 

For example, the park has now changed its greeting from "Ladies and Gentlemen, Boys and Girls" to a simple "Hello, Everyone!" Disneyland has also covered Jessica Rabbit up in a trenchcoat and gave her a new job as a detective.
Stella McCartney has designed Minnie Mouse's very first pantsuit, and it's gorgeous 😍 #DisneylandParis30 pic.twitter.com/jKSckBji36
— Disneyland Paris EN (@DisneyParis_EN)
January 25, 2022
[via The Wrap and Inside the Magic, cover image via Disney Parks Blog]