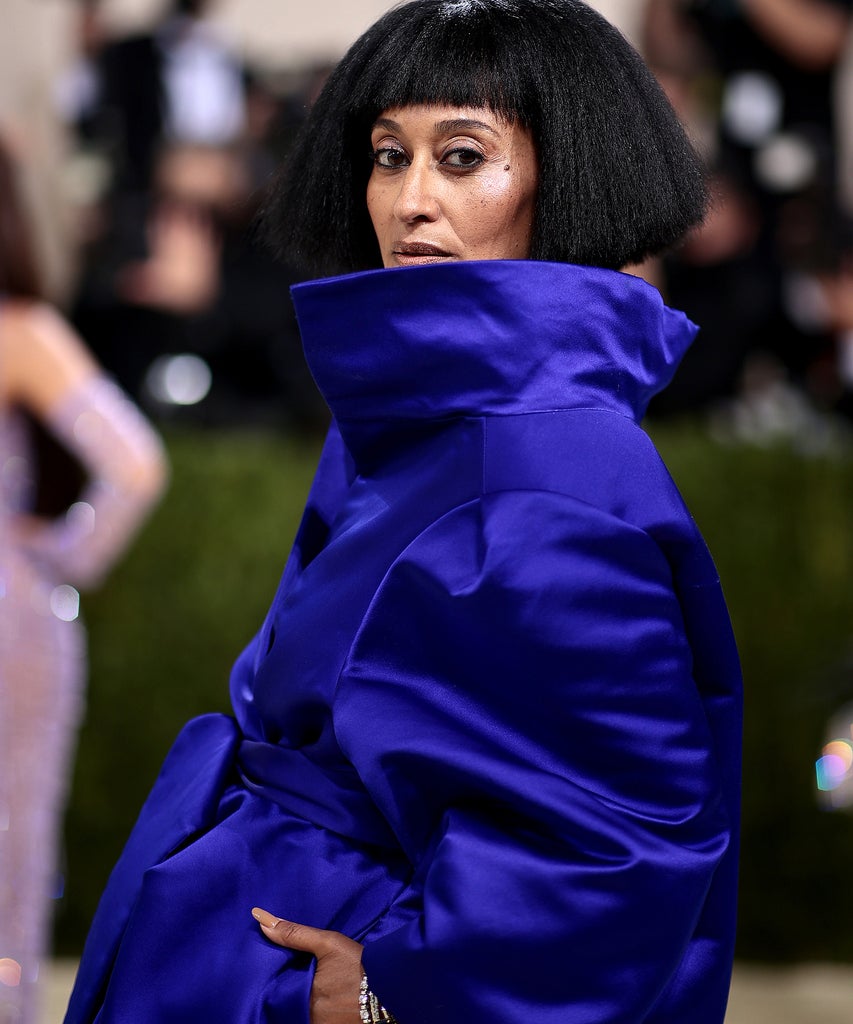 I can't be the only one who turned off last night's Met Gala livestream still unsure of whether the looks worn on the red carpet were in keeping with its theme. The occasion was purportedly all about celebrating American fashion, and yet, countless attendees arrived draped in pieces from parts all across the Atlantic. Hailey Bieber wore a somewhat run-of-the-mill black, strapless dress from Saint Laurent, a French label, while newcomer Emma Chamberlain followed suit in a gold mini from Louis Vuitton, another house helmed in France. They looked great — almost as great as Lil Nas X, whose trio of gold numbers from the Italian house of Versace was giving Lady Gaga at the 2019 camp-themed gala.
Not everyone played fast and loose with the American theme. The red carpet thrummed with looks tied to American legacies: old Hollywood glamour (Billie Eilish in Oscar de la Renta), disco (Keke Palmer in Sergio Hudson), the Southwest (J.Lo in Ralph Lauren), rockabilly (Megan Fox in Dundas), denim (Debbie Harry in Zac Posen and Lupita Nyong'o in Versace), and good old fashioned Converse Chuck Taylors (Timothée Chalamet). On paper, those looks checked off the box marked "American." Meanwhile, other attendees paid homage to iconic American women, including Yara Shahidi channeling Josephine Baker, Kaia Gerber dressing up as Bianca Jagger, Kendall Jenner finding inspo in Audrey Hepburn, and Eiza Gonzalez going á la Rita Hayworth. More used their clothes to make comments on today's political landscape in America, like Rep. Alexandria Ocasio-Cortez, who wore a "Tax the Rich" gown by Brother Vellies designer Aurora James. Amanda Gorman, co-chair of the event, wore a Vera Wang Haute gown, designed to embody the Statue of Liberty, and a book-shaped clutch with the words, "Give Me Your Tired," in reference to the poem engraved on the monument. Actor Dan Levy's Loewe look made a statement about marriage equality. Congresswoman Carolyn B. Maloney wore her stance on the Equal Rights Amendment stitched on her dress. 
Without cloaking oneself in stars and stripes, the abovementioned ensembles successfully made reference to the U S of A. But American fashion is about more than blue jeans, Marilyn Monroe, and gowns that telegraph your political beliefs. It's a mix of a million different things and countless provenances, just as its people come from all over the world. Fashion historian and assistant curator at the Cleveland Museum of Art, Darnell Jamal Lisby, agrees that the spectacle, however baffling at first, was more successful than predicted. "American fashion is so broad," he tells Refinery29, following Monday night's Met Gala red carpet. "It's supposed to be a wide range of perspectives because American fashion is not one thing." According to Lisby, that's the beauty of this theme: "It would be different if we were talking about the McQueen exhibition, where if you weren't wearing McQueen, that would be a problem. With this year's theme, you can do pretty much anything, because American fashion doesn't or shouldn't have rules." 
From Lisby's perspective, the attendees that successfully hit their marks at the Met Gala were the ones who incorporated their culture and personality into the mix. By that definition, Tracee Ellis Ross would be in contention for best dressed, having said on the red carpet that her Balenciaga haute couture look was "an expression of [her] inner self," and a symbol of a Black girl "wearing what she wants." Saweetie, too, would likely be deemed a red-carpet winner, wearing a Christian Cowan gown featuring two trains: one of the Black American heritage flag and another of the Filipino flag, both of which represent her background. Timothée Chalamet told Keke Palmer, the co-host of Vogue's livestream of the event, that his smorgasbord look — which included a Haider Ackermann tuxedo jacket, Rick Owens sweatpants, and Converse high-tops — featured pieces that reflected America from his own point of view. 
That ability to convey oneself through one's clothing is what fashion historian and associate professor at University of Nevada, Las Vegas, Deirdre Clemente, believes American fashion is all about, as opposed to any one particular aesthetic. While the words "French girl style" immediately evoke a rough sketch of a certain kind of woman, "American style" has yet to be written. And it shouldn't be. Clemente says that American fashion is all about showcasing oneself, often to jubilant excess. Last night, that was presented in a number of unforgettable looks that felt like extensions of the wearer, rather than garments specifically tied to American themes.
"What makes this Met Gala really stand out is the ability for people to play to their own strengths and assert individuality," Clemente says. She's talking about the handful who truly embraced the night's theme. 
Like what you see? How about some more R29 goodness, right here?
The Most American Looks From The 2021 Met Gala
A Tribute To The Best Met Gala Looks Of All Time