Raias Recipes
Over 100 Delicious Gluten-Free Beans and Rice Recipes
Have beans and rice and don't know what to do with them? Check out these 100+ amazingly delicious recipes! Breakfast, dessert, chili, Instant Pot, slow cooker, casseroles… there's something for everyone!

Beans and rice for the win!
As a mom of many, I know firsthand how hard it can be to feed a crowd. One of the staples in my arsenal: beans and rice. Or in my case, beans and quinoa. There are seriously SO many dishes you can prepare with these simple, cheap ingredients! (Well, quinoa isn't always cheap, but you can find it for a pretty good price at Aldi or Azure Standard.)
We not only eat beans and rice (or quinoa) for lunch and dinner, but you can also make some delicious breakfast and desserts with them, too!

Before we get started.
Before we get into all the recipes, there are somethings everyone should know about beans and rice… and quinoa. All beans and rice (any legume, grain, or seed, to be precise) contain things called enzyme inhibitors and phytic acid. Enzyme inhibitors help keep the beans dry and dormant until they are soaked and start to sprout. Phytic acid, or phytate, binds to minerals, metals, and anything else found in your liver and intestines and takes them out of the body with it.
While phytic acid can be a powerful antioxidant ridding our organs of heavy metals and other toxins, eating too many grains, seeds, or beans that have not been sprouted or soaked can lead to serious mineral deficiencies and even bone loss. What's the key to making beans and rice digestible? Soaking!
Soaking beans, rice, and quinoa neutralizes the enzyme inhibitors and helps the food start to produce beneficial digestive enzymes, such as lactobacilli. These enzymes and organisms break down and neutralize the phytic acid, making your beans and rice (and quinoa) wonderfully digestible.

How to cook perfect rice in an Instant Pot from Prepare & Nourish
How to soak and sprout beans and rice.
If you're like, "Ok, how it the world do I soak and/or sprout my beans and rice, and quinoa?" I have an article linked below to help you out. My favorite way to cook these things is (of course) in my beloved Instant Pot. I refuse to cook beans any other way! I use the Instant Pot Duo 6 quart 7-in-1 to cook my beans. The Instant Pot also does amazing job of cooking rice and quinoa, so I'm including some links for how to make those, too.
Now that you have all this nifty beans and rice knowledge under your belt, let's dive in to the recipes!

Ground Turkey Chili Shakshuka from Fearless Dining
Breakfast Beans and Rice.
Black Rice Sweet Porridge – Indonesian bubur ketan hitam (glutinous black rice sweet porridge) is a delicious, sweet, thick, and very filling porridge that is always a popular choice for breakfast, tea time, or supper. Plus, this recipe from V For Veggie happens to be gluten-free and vegan friendly.
Cheesy Faux Grits – These cheesy faux "grits" from Raia's Recipes have quickly become a favorite meal in my household. Not only do we eat them for breakfast, but they make an easy lunch or dinner, as well! With only three ingredients, one of them being cheese, how could you go wrong?
Instant Pot Forbidden Rice & Red Bean Congee – Forbidden rice and red bean congee from Yang's Nourishing Kitchen is a classic Chinese recipe. The rice and beans are soaked for better digestion. This congee is a perfect traditional food remedy to nourish the blood.
Ground Turkey Chili Shakshuka – There is nothing more satisfying than a hearty hot breakfast – or breakfast for dinner – like this easy ground turkey chili shakshuka recipe from Fearless Dining. It is warm and full of delicious ground turkey to keep you full.
Rice Flour Porridge from Eat Beautiful
Instant Pot Quinoa Breakfast Porridge – This soaked Instant Pot quinoa breakfast porridge from All the Nourishing Things is a gluten-free, grain-free, dairy-free breakfast that's easy, digestible, and has just 4 ingredients! Top it with extra dairy-free milk, butter or ghee, and fun things like nuts or seeds, chocolate chips, and raisins!
Rice Flour Porridge – Just flour and water make this delicious and cozy breakfast from Eat Beautiful! You'll love this new pantry staple recipe: convenient, a favorite with all ages and affordable. If rice flour isn't a staple in your house, simply grind some rice in your blender!
Soaked Chocolate-Orange Quinoa Granola – This easy soaked chocolate-orange quinoa granola from All the Nourishing Things is nut-free, oat-free, sugar-free, and soaked to reduce phytic acid. Plus, it's a no-bake granola recipe that will remind you of the convenience of breakfast cereal, but this granola is packed with complex carbs and healthy fats!
Vegan Gluten-Free Oat & Quinoa Waffles – Enjoy these fuss-free and tasty vegan gluten-free waffles made with oat and quinoa flour from the Simple Green. They're crunchy and golden on the outside and soft on the inside. Quinoa adds a wonderful nutty flavor and protein to help to keep you full during the busy work or school mornings. This recipe comes together quickly in a blender, too!

Black Bean Burrito Bowl from Food by Jonister
Stove Top Beans and Rice.
Arrabbiata Beans – These spicy Italian beans from Three Olives Branch are a twist on the classic Italian pasta recipe. Beans are used in place of pasta for a protein packed meal.
Bayou Dirty Rice – A delicious, real food take on a popular cajun dish. This is healthy cajun Bayou dirty rice from Mommypotamus is a dish your whole family will enjoy.
Black Beans & Brown Rice – Combined with fresh herbs and spices, these black beans and brown rice from Beyond the Chicken Coop can be served as a side dish or a main. It's a great use of pantry staples.
Black Bean Buddha Bowls – The star of these vegan buddha bowls from Our Salty Kitchen are citrusy black beans. Layered with quinoa and roasted sweet potatoes then topped with avocado and cilantro, the end result is a nutrient-dense meal packed with flavor. These bowls are a satisfying, crave-worthy vegan meal. 
Black Bean Burrito Bowl – This delicious bowl from Food by Jonister is better than a Chipotle black bean burrito bowl and it happens to be 100% plant-based!
Black Bean Quinoa Buddha Bowl – The secret sauce to a beautiful buddha bowl is a healthy grain, plant-based protein and color. Just look at this gorgeous dish from Food by Jonister!
Blackened Cajun Chicken with Gumbo Rice – This blackened cajun chicken with gumbo rice from Three Olives Branch is packed full of flavor and a fantastic one-pot meal. With the classic flavors of gumbo, it reminds me of New Orleans!
One-Pan Mexican Quinoa from Vegan Huggs
Cajun Butter Beans with Shrimp & Sausage – Thick, creamy and seasoned to south Louisiana perfection, A Sprinkling of Cayenne's Cajun butter beans with shrimp and sausage are the ultimate all-in-one comfort food.
Cajun Red Beans & Rice – These Cajun red beans and rice from the Food Blog are a delicious and healthy vegetarian meal.
Easy Red Beans and Rice – Made with homemade stock and a little spice to warm the soul, this Creole classic dish from Savoring Today is full of flavor and substance to satisfy.
Easy One-Pot Vegan Gluten-Free Louisiana Red Beans & Rice – An easy one-pot recipe for the classic Southern dish! This vegan and gluten-free version of Louisiana red beans and rice from Strength & Sunshine is full of deep smoky and spicy flavors, rice, kidney beans, and veggies. It's allergy-free, oil-free, and still a hearty and comforting meal without the meat!
Hot Dog Fried Rice – Delicious and comforting gluten-free hot dog fried rice from What Great Grandma Ate comes together in no time for a quick weeknight meal. Paleo and Whole30 version is also included!
Leftover Ham, Rice & Beans – This leftover ham, rice, and beans dish from Food Meanderings is a favorite leftover ham recipes. It's healthy, easy, flavorful and has a little kick! But what I love most about it is that it's a little different than the usual.
Arrabbiata Beans from Three Olives Branch
Mexican Cowboy Beans – Frijoles charros, or Mexican cowboy beans, is the essential side dish for any barbecue or cookout. With pinto beans, bacon, and jalapeño, this traditional ranch style beans recipe from Erica's Recipes cooks slowly to make the most flavorful, authentic frijoles a la charra you ever had in your life.
Mixed Bean Chili – This Mexican mixed bean chili from Jack Slobodian is delicious and super easy to make. It uses Mexican flavors which create a bowl of warm, aromatic and smokey chili. This recipe is also made using just one pot.
Mushroom Risotto – This mushroom risotto from Lins Food is one of those risotti that is a favorite with so many. 
One-Pan Mexican Quinoa – This one-pan Mexican quinoa from Vegan Huggs is a hearty flavor-packed meal and it's a breeze to make. It's a total weeknight winner that takes about 30 minutes on the stove, and you'll only have to clean one pan!
Orange Cacao Black Bean Tacos – These healthy and hearty vegetarian black bean tacos from Recipes to Nourish are stellar! They're deeply flavored with hints of sweet orange and chocolate, spicy cumin and jalapeños, and packed with creamy black beans, sweet corn and salty olives.
Puerto Rican Rice & Beans – A great Puerto Rican rice and beans recipe is all about the spices. This one from Food by Jonister is spot on!
Quick & Easy Black Beans & Rice –  This black beans and rice from Bowl of Delicious is such a cheap, easy, healthy, and quick vegan side or main! This plant-based recipe comes together in only 25 minutes and uses canned black beans as a shortcut, without skimping on flavor or texture.
Quinoa Black Bean Tacos from Raia's Recipes
Quick & Easy Ground Pork Fried Rice – Get ready for a big surprise because this gluten free ground pork fried rice from Fearless Dining is an amazing dinner that the whole family will love. If you love fried rice, wait until you try it made with ground pork!
Quinoa Black Bean Tacos – These quinoa and black bean tacos from Raia's Recipes are an easy weeknight meal! They're naturally gluten-free and vegan, and can even be grain-free!
Quinoa Black Bean Taco Filing – This quinoa black bean taco filling from Class Clay Cooking is a great plant-based alternative to beef or other taco fillings. Its great over nachos, in tacos, and even burritos.
Quinoa Pilau – Inspired by the traditional rice pilau, this enticing and super-healthy gluten free vegetarian quinoa pilau from Desi-licious RD is bursting with flavor, and so simple to pull off. Infused with the aroma of cumin, coriander and garam masala, this recipe is one you will want to add to your repertoire. Satisfying and finger-licking good!
Rajma Pulao – This aromatic rice pulao or pilaf from Veg Recipes of India is made with kidney beans, herbs and spices. It's vegan and gluten-free.
Red Beans & Rice – This recipe from Cooktoria is the only rice and beans recipe you'll ever need! Made with simple ingredients, this dish is filling and very tasty.
Risotto alla Milanese – A real food take from Mommypotamus on this 18th century Italian dish. This side dish is perfect with roasts and other beef dishes.
Cajun Red Beans & Rice from the Food Blog
Spicy Quinoa & Black Beans – This easy, one-pot, vegan-friendly quinoa and black beans recipe from Bowl of Delicious is sure to satisfy anyone who loves bold flavor! Nutrient-rich grains, vegetables, and beans make for a hearty meal topped with sour cream and avocado, or side to your favorite Mexican dish.
Spinach Artichoke Risotto – Spinach artichoke risotto from Three Olives Branch is a delicious, cheesy rice recipe. Serve it up as a main course, either as-is or with some shrimp or chicken, or as a side to your Italian meal.
Stir-Fried Chicken with Red Rice – Succulent chicken cubes with red rice and red beans with a simple soy sauce seasoning makes a humble cut of meat like chicken exotic and healthy in this dish from Go Healthy Ever After.
Turkey Quinoa Skillet – Ground turkey, quinoa, black beans, corn, tomatoes and Mexican spices all cooked together in just one skillet! This healthy and delicious turkey quinoa skillet dinner from Spoonful of Flavor will become your family's favorite weeknight dinner.
Vegan Chickpea Kedgeree – This vegan chickpea kedgeree from Rhian's Recipes is easy to make, super flavorful and so nutritious! 
Vegan Pineapple Fried Rice – Easy vegan pineapple fried rice from Veggie Society is made with perfectly stir fried veggies, a simple sweet and savory tamari sauce and tons of flavor. Healthy, filling, gluten free and makes perfect leftovers.

Santa Fe Quinoa Stuffed Peppers from Vegan Huggs
Beans and Rice in the Oven.
Easy Bean & Cauliflower Rice Enchiladas – Easy bean and cauliflower rice enchiladas from Spabetti are a quick weeknight dinner that makes a great lunch the next day! 
Healthy Tex-Mex Chicken & Rice Casserole – This fluffy, beautifully seasoned rice casserole from Gluten Free Homestead can be stuffed in corn tacos, rolled up in a gluten-free tortilla, or just tossed in a bowl with homemade paleo salsa on top. Yum!
Mexican Style Stuffed Sweet Potatoes – Mexican-style stuffed sweet potatoes from Shivani Loves Food are a no-fuss vegan dinner that is sure to impress. Packed with flavor and spice, and ready in under an hour!
Quinoa & Sausage Stuffed Peppers – These stuffed peppers from Gluten Free Homestead are so wonderfully satisfying. After baking in the oven for about an hour, the stuffing is beautifully crispy and the peppers are warm and tender.
Roasted Veggie Brown Rice Bowls – These easily customizable veggie and grain bowls from Veggie Inspired is perfect for any day or night of the week.
Santa Fe Quinoa Stuffed Peppers – Looking to spice up your weeknight menu? These Santa Fe quinoa stuffed peppers from Vegan Huggs will do just the trick.
Stuffed Peppers with Butternut Squash & Quinoa – These Italian style vegan stuffed peppers with vegetables and quinoa from Melissa Traub are a delicious meal.
Vegan Black Bean Stuffed Sweet Potatoes – Sweet potatoes are a staple food in our house. We use them in many dishes but we do love these vegan black bean stuffed sweet potatoes from Nutritious Delicious. They are so hearty and filling and you can adapt them to suit with other ingredients. 
Mexican Quinoa in the Instant Pot from Spice Cravings
Instant Pot or Slow Cooker Beans and Rice.
Crockpot Red Beans & Rice – These healthy red beans and rice from Day by Day in Our World are a delicious taste of Louisiana without all the fat.
Easy Mexican Instant Pot Rice & Beans – These easy Mexican Instant Pot rice and beans from Belly Rules the Mind makes a delicious and quick vegetarian lunch, dinner, or side dish. Loaded with the bold flavor of salsa and spices, this hearty dish is a delicious addition to taco night. This Mexican Instant Pot rice and beans recipe also would be the perfect base for a burrito or burrito bowl.
Instant Pot Black Beans & Rice – Make lovely cumin-scented, Cuban inspired Instant Pot black beans and rice from Two Sleevers in a fraction of the time of traditional methods! One of the best black bean recipes you'll make in your Instant Pot.
Instant Pot Mexican Casserole – This Instant Pot Mexican casserole from This Healthy Kitchen just might combine all of my favorite things! An easy recipe, made even easier in a set it and forget it appliance made using healthy, wholesome ingredients. It's filling, flavorful, and SO satisfying.
Instant Pot Chipotle Peruano Beans – These creamy, buttery, tender Peruvian beans from Moon & Spoon & Yum are super simple, healthy and easy to make. Spiced with ground chipotle pepper powder, these pressure cooker beans are filled with a deep, smoky flavor that accommodates a variety of dishes. Peruano beans are also known as mayocoba beans, canary beans or frijoles canarios. Gluten-free, vegan and oil-free. Stovetop method included!
Instant Pot Rajma Chawal – This easy kidney beans curry from Belly Rules the Mind is a delicious meal your whole family will love. The Instant Pot makes preparing this hearty vegetarian recipe easy enough for a busy night. Leftovers store well and make perfect nutritious lunches to fuel your family's day.
Mushroom Pulao from Indian Ambrosia
Instant Pot Rice-a-Roni Chicken – A family friendly meal that goes together in a snap and cooks in five minutes!! This Instant Pot Rice-a-Roni chicken from Tessa Tomestic Diva is a kid friendly meal you do not want to miss! And no worries, this version is all real food…no scary processed ingredients here!
Instant Pot Quinoa Pilaf – This Instant Pot quinoa pulao or pilaf from Aromatic Essence is a complete, one-pot meal that is quick, delicious, nutritious, vegan, and gluten-free! Stove-top instructions included too.
Italian Sausage and White Beans with Sage – This Italian sausage and white bean meal from Kalyn's Kitchen gets extra flavorful when the cooked beans, sausage, and sage are simmered in the Instant Pot or slow cooker with tomatoes and ground fennel. And this delicious recipe is low-glycemic and gluten-free. If you're watching carbs, double the sausage and use less beans for a more carb-conscious dish.
Soaked Instant Pot Pork 'n Beans from All the Nourishing Things
Mexican Quinoa in the Instant Pot – Healthy, filling and so easy to make, this Instant Pot Mexican quinoa from Spice Cravings is a delicious one-pot meal. Quinoa, beans, corn and peppers cooked in Tex-Mex style in just 30-minutes. This vegan and gluten-free dish is perfect for school lunches, picnics and potlucks too.
Mushroom Pulao – This Instant Pot mushroom pulao from Indian Ambrosia is an Indian mushroom rice recipe that makes for a tasty one-pot brunch or dinner. A simple vegan and gluten-free rice pilaf that comes together in 25 minutes in the Instant Pot.
Quinoa & Beef Stuffed Chard – It might sound like a complicated mouthful, but this gluten-free and real food quinoa and beef stuffed chard in the Instant Pot from Raia's Recipes is surprisingly easy and amazingly delicious!
Soaked Instant Pot Pork 'n Beans – These Instant Pot pork 'n beans from All the Nourishing Things hearken back to the canned version, but this pork 'n beans recipe is so much healthier! This all-weather recipe is perfect for chilly nights with some cornbread, potlucks, BBQs, and meal prep!
Slow Cooker Coconut Red Beans & Rice – These Caribbean-inspired red beans and rice from the Food Blog are a delicious side dish for so many meals, but also just a tasty meal all by itself.
Comforting Seven Bean Stew from the Simple Green
Soups with Beans and Rice.
Allergy-Friendly, Vegan Stew – This stew from Clean Eating Gluten Free Foodie is packed with flavor and nutrition, and is top-8 free! So it's safe for allergy kiddos.
Black Bean Quinoa Chili with Cocoa – Packed with protein and healthy veggies, this vegetarian chili from Veggie Inspired is hearty and satisfying! The cocoa powder adds an incredible depth of flavor – but, don't worry – it won't taste chocolatey. Easy enough for a weeknight meal, delicious enough to serve to a crowd!
Chicken & Sweet Potato Chipotle Chili – Celebrate all the wonder of fall with this hearty and warming grain-free chicken and sweet potato chipotle chili from Raia's Recipes. With the perfect blend of sweet and spicy, it's a dish that's sure to make a regular appearance at your dinner table!
Comforting Seven Bean Stew – This delicious comforting seven bean stew from the Simple Green features a medley of dried lentils, pinto beans, navy beans, black eyed peas, kidney beans and black beans. A hearty and down right delicious stew this time of year. This recipe is vegan and gluten-free.
Easy Vegetarian Instant Pot Chili – You won't be able to get enough of this Instant Pot vegetarian chili recipe from Zestful Kitchen! It is so chunky and hearty, even meat-lovers will be pleased. Thanks to a combination of beans, lentils and butternut squash, this vegetarian chili recipe will rival any meat-based chili out there.
Easy White Bean Chicken Chili – This delicious chili from Eat Beautiful can be made with or without dairy. Use your crock pot or Instant Pot. This recipe is soaked (easy overnight) for gentle digestion and nutrition
Hearty Chickpea Curry Soup – This easy hearty chickpea curry soup from Go Healthy Ever After is a wholesome soup with a delicious spice blend that fills your house with a pleasant aroma that can make you hungry any time of the day!
Mexican Black Bean Soup – This Mexican black bean soup from Allergy Free Alaska is rich and flavorful, comes together quickly, and takes advantage of the convenience of canned black beans. Studded with bits of sausage and veggies, it's a wonderful and comforting meal everyone will love, especially when paired with these gluten-free biscuits.
One-Pot Winter Squash Stew – One pot meals are so easy and there is less to clean up! This stew from Food by Jonister also makes for great leftovers and lunches the next day.
Turkey Quinoa Pumpkin Soup – Turkey quinoa pumpkin soup from Yang's Nourishing Kitchen is a nourishing cold weather soup making use of your leftover turkey. This delicious and cozy soup has a healing bone broth base. I will also show you how to prepare quinoa for better digestion.
Easy Vegetarian Instant Pot Chili from Zestful Kitchen
Vegan Black Bean Soup – This vegan black bean soup from 24 Bite is hearty and healthy. It's naturally vegan and gluten free. Spice it up and take the boring out of black beans.
Vegan Instant Pot White Bean Soup – This comforting and heart-warming white bean soup from Moon & Spoon & Yum is packed with flavorful Mexican spices for a truly delicious vegan soup recipe that is healthy, easy to make and can be made with soaked or un-soaked dry white beans! Both Instant Pot pressure cooker and stovetop instructions are included for this spicy, smoky, keto friendly soup!
Vegan Jamaican Jerk Chili with Mango Salsa – You won't miss the meat or dairy in this easy vegan chili from the Organic Kitchen. Brightened with our favorite jerk spices.
Vegan Pinto Bean Stew – The best vegan pinto bean soup recipe from scratch from Veggie Society. Naturally thick and creamy without the addition of any thickeners, with deep layers of smoky flavors from Mexican seasonings, smoked paprika, bay and thyme. Serve over brown rice or wipe your bowls clean with a chunk of this crusty bread.
Vegan White Bean Chili – This vegan white bean chili from Rhian's Recipes is super flavorful, comforting and healthy. A subtly spiced, rich white sauce filled with creamy white beans, green peppers and nutty sweetcorn.
One-Pot Winter Squash Stew from Food by Jonister
Vegetarian Black Bean Chili – Quick, easy and tasty. That's how I would sum up this vegetarian black bean chili from Gypsy Plate. Start to finish in 30 minutes. Whip it up on a weeknight and make a big batch, you'll want leftovers tomorrow!
Vegetarian Chili with Quinoa – This hearty vegetarian chili with quinoa from Hint of Healthy comes together easily by combining quinoa, black beans, lentils and red pepper in a rich tomato sauce with powerful spices. Make it as mild or as spicy as you want, and serve it with your favorite sides.
White Chicken Chili – This white chicken chili from Raia's Recipes is easy and full of flavor. With only real-food, gluten-free ingredients, it's a healthy comforting meal that can be made either in the Instant Pot or Slow Cooker.
Winter Vegetable Soup with Chickpeas & Wild Rice – Wild rice and chickpeas add a healthy dose of protein to this simple and satisfying winter vegetable soup from the Simple Green. Top with loads of fresh parsley, spinach or kale. This is a vegan soup recipe which also happens to be gluten free.

Quinoa Tabouli from It's Not Complicated
Salads with Beans and Quinoa.
4-Bean Salad – This traditional 4 bean salad from Trina Krug has a few surprises in store for you! A delicate blend of sweet and savory for the perfect gluten free side dish.
Black Bean Quinoa Salad – This healthy vegetarian black bean quinoa salad from Peas & Crayons is fast, flavorful, and easily made in advance for speedy lunches and sides for work, school, or home!
Chilled Quinoa Salad – Picnic foods are great during the summer, but you can only eat so much potato salad. This chilled quinoa salad from the Herbal Spoon checks all the healthy boxes, and is delicious to boot. 
Easy Blackened Chicken & Quinoa Salad – This delicious quinoa salad from the Organic Kitchen is a vibrant, tasty, complete meal salad!
Grilled Vegetable Quinoa Salad – A simple salad recipe from Fit As A Mama Bear, this quinoa salad contains only seven ingredients and is dressed with a mustard vinaigrette. It makes a tasty and quick dinner recipe on a warm night or a simple, light lunch the next day. Loaded with veggies, color, and plant-based protein.
Instant Pot Quinoa Salad with Salmon – This Instant Pot quinoa salad with salmon from Two Sleevers is a delicious and nutritious meal that's so very easy to make. Thanks to the Instant Pot, this recipe will be done before you know it!
Mediterranean Lamb Salad with Quinoa – A flavorsome and colorful salad from Cooking with Bry filled with rich Mediterranean flavors, bringing summer to your kitchen and home.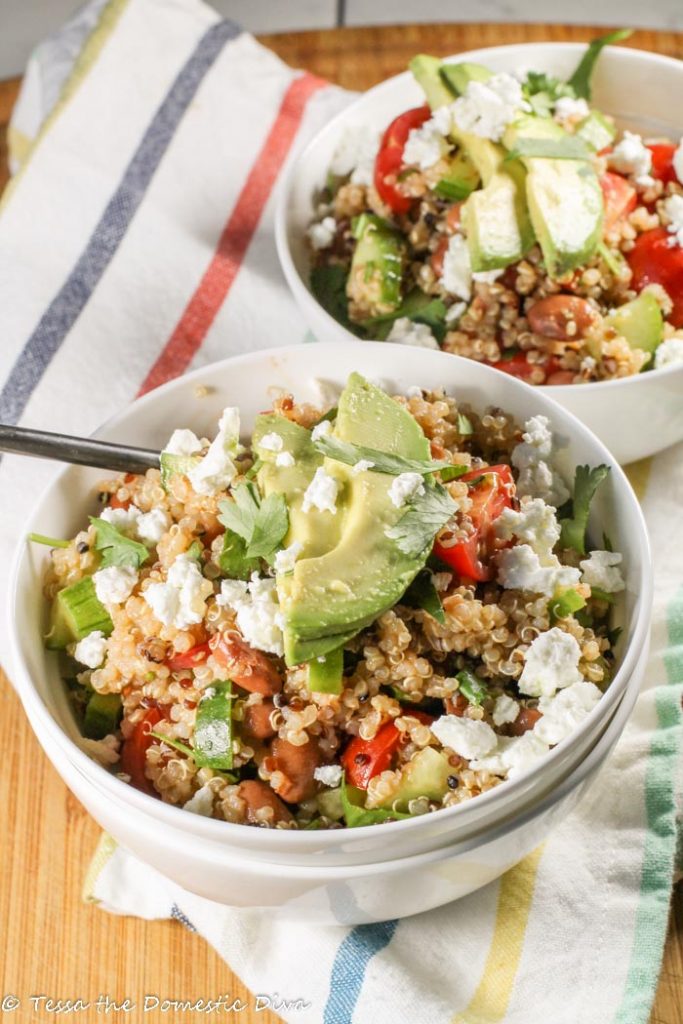 Mexican Quinoa Salad with Chipotle Vinaigrette from Tessa Domestic Diva
Mediterranean Quinoa Salad – This Mediterranean quinoa salad from What A Girl Eats is a wonderfully healthy side dish or meatless main meal. Tender quinoa is tossed with fresh basil pesto, artichokes, kalamata olives, and cherry tomatoes. Filling and flavorful!
Mexican Quinoa Salad with Chipotle Vinaigrette – A perfect salad to make ahead or eat for lunch, this Mexican quinoa salad from Tessa Domestic Diva is a meal full of flavor!! The chipotle lime vinaigrette really sets this salad apart!
Quinoa Salad with Black Beans, Chickpeas & Avocado – Packed with vegetarian protein and healthy fats, this quinoa salad with black beans, chickpeas and avocado from Hint of Healthy is the perfect salad for a quick and easy meal.
Vegan Moroccan Quinoa Salad – This healthy easy vegan quinoa salad from Food Meanderings is a Moroccan variation on tabouli, made with gluten-free quinoa. It can be made in under 30 minutes and makes a great lunch box meal.
Instant Pot Bacon-Jalapeño Baked Beans from All the Nourishing Things
Sides Dishes with Beans and Rice.
Coconut Lime Rice – This side dish from Three Olives Branch is a perfect way to jazz up a side dish! Rice is cooked with coconut milk and lime juice for a subtle yet present flavor.
Easy Spanish Rice – This easy Spanish rice from Seitan Beats Your Meat is full of flavor and can be made with pantry staples in less than 30 minutes.
Ghee Rice – This ghee rice recipe from Nithi's Click n Cook is extremely flavorful, the rice is so fluffy, can be made with minimal ingredients, about to become your new family favourite and on your table under 20 mins or less than that.
Homemade Baked Beans with Bacon & Molasses – This recipe from Commonsense Home is full of earthy molasses, bacon (can't go wrong with bacon) onions and garlic (don't skimp on the onions, and use fresh garlic if you can). It's a simple recipe but really tasty.
Indian Lemon Rice – This Indian lemon rice from Indian Ambrosia is a beautiful, sunshine-yellow dish with anti-inflammatory turmeric and the crunch of roasted peanuts and lentils. This is a simple, one-pot meal ready in 25 minutes in the instant pot. Vegan and gluten-free!
Indian Lemon Turmeric Rice – Sautéed rice in coconut oil, turmeric, and lemon is delicious and packed with flavors. Added peanuts + coconut flakes for taste and texture. This delicious recipe from Easy Cooking With Molly makes for a perfect side dish or light lunch.
Instant Pot Cilantro Lime Black Beans – These Instant Pot cilantro lime black beans from All the Nourishing Things are easy, tasty, gluten-free, and vegan and made with soaked beans (Weston A. Price style) for best digestion! They're a perfect pantry staple side dish for Mexican dishes or vegan/vegetarian dishes!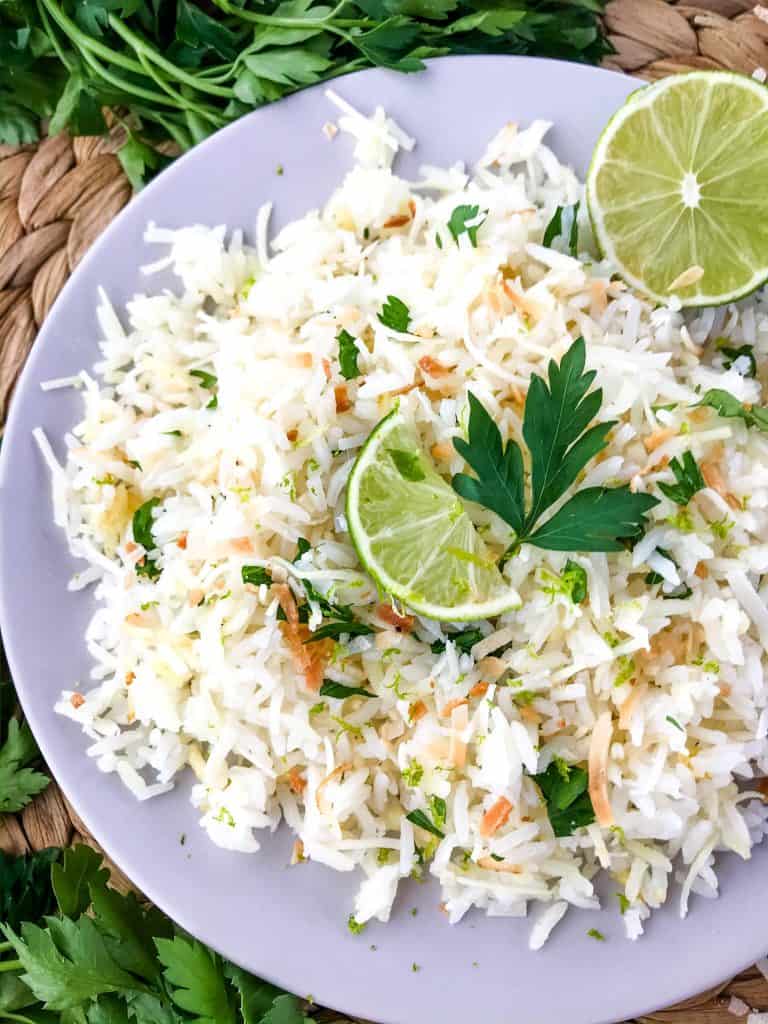 Coconut Lime Rice from Three Olives Branch
Instant Pot Bacon-Jalapeño Baked Beans – Get out your pressure cooker and make the perfect healthy side dish for bar-b-ques, potlucks, and cookouts — Instant Pot bacon-jalapeño baked beans from All the Nourishing Things! These nourishing beans, with their slightly spicy, sweet, bacon-y flavor, are soaked so they're digestible and gas-free!
Instant Pot Pinto Beans – This Instant Pot pinto beans recipe from Two Sleevers will quite possibly be the best Mexican-style beans you've ever had. It's super easy to make in your Instant Pot and it tastes so very good!
Instant Pot Ranchero Beans – Every Mexican-inspired meal needs a side of Instant Pot ranchero beans! Soaking for 36 hours eliminates the phytic acid that causes gas and bloating, so you can savor the smoky flavor of these nourishing beans from All the Nourishing Things without paying for it later!
Instant Pot Refried Beans – These Instant Pot refried beans from Allergy Free Alaska are a staple in our house. They are creamy and satisfying, yet incredibly affordable and freeze well. Enjoy these flavorful pinto beans over rice, in tortillas, or however you desire. You won't believe how easy this recipe is!
Instant Pot Vegetable Quinoa – Preparing this vegetable quinoa with the Instant Pot from Simple Sumptuous Cooking is very straight forward. The trick lies in choosing the right spice combination that brings the best from quinoa.
Spanakorizo from Cooktoria
Lemon Brown Rice – This easy recipe for lemon rice from Go Healthy Ever After combines the amazing flavors of the Indian staple with the healthier brown rice and crunchy vegetables to give you a delicious vegan one-pot meal in less than 30 minutes.
Mexican Green Rice – This light and fluffy arroz verde or Mexican green rice from A Taste for Travel is perfect with dishes such as carnitas, enchiladas, chicken tacos and grilled meats. Packed with fresh spinach, it makes a healthy side dish that's vegetarian, vegan and gluten-free.
Quinoa Tabouli – This versatile salad from It's Not Complicated is happy to fulfill many roles. Serve it as a delicious side dish, as an appetizer as part of a meze, or enjoy it as a light main meal. It is nutritious, full of flavor and will suit many people with specific dietary requirements as it is gluten-free, dairy-free and vegan.
Savory Turkey Rice – This savory turkey rice from Raia's Recipes is a wonderful way to use up Thanksgiving leftovers as a tasty side dish or a light lunch.
Simple Ghee Rice – This simple ghee rice from My Indian Stove is richly aromatic with ghee and a few spices. It is so much more flavorful than you would expect and it works well as the center of a meal, or as a side to a curry or roast.
Slow Cooker Greek Rice – This slow cooker Greek rice with red bell pepper, feta, and kalamata olives from Kalyn's Kitchen is a perfect side dish when you want something that can cook mostly unattended.
Spanakorizo – This simple, delicious, and authentic spanakorizo (Greek spinach rice) from Cooktoria makes a filling vegetarian meal or side dish. Fresh dill, chives, and lemon juice give it an extraordinary flavor and aroma.
Favorite Black Bean Brownies from Robust Recipes
Desserts with Beans and Rice.
Favorite Black Bean Brownies – Black bean brownies from Robust Recipes are my favorite fudgy brownies to make for pretty much any occasion. Easy to make and gluten free and vegan.
Fudgy Vegan Black Bean Brownies – You are going to want to make these delicious fudgy vegan black bean brownies from Clean Eating Kitchen as soon as possible. This recipe is gluten-free, grain-free, and dairy-free. Nobody will ever guess that these brownies are made from beans.
Honey-Sweetened Horchata – Thick, creamy, and delicious, this nourishing honey-sweetened horchata from Raia's Recipes is packed full of vitamins, minerals, and prebiotics! It's a sweet, cinnamon-y favorite.
Indian Rice Pudding – Creamy, comforting, make-ahead, and pretty as a picture, this Indian rice pudding from Indian Stove will solve your sweet course. Topped with nuts of your choice for some crunch, this is a satisfying way to end a meal. 
Indonesian Sticky Rice Cake – Wajik ketan hitam, Indonesian sticky rice cake, is a very simple and delicious dessert using only a handful of ingredients. This dessert from V For Veggie uses both white and black sticky rice, and flavored with coconut milk and pandan leaves. It is dairy free, vegan friendly, and completely gluten free too. If you need to prepare an exotic dessert for your next gathering, you need to give this a try.
Instant Pot Coconut Rice Pudding – Creamy, rich and flavorful Instant Pot coconut rice pudding from Easy Cooking with Molly is a gluten-free, vegan rice pudding made using coconut milk, rice, cardamom, coconut sugar and decorated with pistachio – rose petals. It can be served hot or cold and can be made a day in advance.
Mexican Rice Pudding from 24 Bite
Instant Pot Kheer – This delightful rice dessert from Indian Ambrosia is delicious  served chilled after meals. This is a no-fuss, one-pot recipe made with whole milk, rice, sugar, nuts and saffron. You simply can't say no to this rich and creamy Indian pudding!
Instant Pot Rice Pudding 2 Ways – Here is a dump & start pressure cooker recipe for creamy rice pudding from Spice Cravings! This easy recipe transforms rice, milk and sugar into two amazing flavors- Indian rice pudding Kheer, or Spanish Arroz Con Leche! 
Instant Pot Quinoa Pudding – This quinoa pudding, or quinoa kheer, from Two Sleevers is an Indian dessert made with quinoa, milk, and sweetened condensed milk for sweetness. This delicious Instant Pot dessert is only four ingredients with optional add ins that comes together in less than 15 minutes!
Korean Rice Triangles – These fun little rice triangles (삼각주먹밥 Samgak Joomukbap) from Kimchimari are a fun treat to make and share with kiddos!
Mango Sticky Rice – Deceptively simple and extremely addictive, there's something about the perfect harmony of the thick creamy sweetened sticky rice paired with luscious mango slices all topped with a fragrant coconut sauce that awakens the senses. You'll love this mango sticky rice from Sweet & Savor!
Honey-Sweetened Horchata from Raia's Recipes
Mexican Rice Pudding – Arroz con leche from 24 Bite is a delicious, creamy gluten free dessert recipe made easily with milk, rice and aromatic spices. It can be enjoyed warm or chilled.
Rice Milk Coffee Creamer – If you're in need of a budget-friendly and dairy-free creamer replacement for your coffee, the Herbal Spoon's recipe is right up your alley!
Saffron Rice Kheer – Creamy, delicious saffron rice kheer from Nithi's Click & Cook is so easy to make and great for any occasion! This is the traditional classic Indian recipe but the variations are countless!
Snowman Rice Balls – Snowman Rice Balls?? Yes, it's your favorite jumeokbap (주먹밥) from Kimchimari in the shape of a snowman! Now your kids can make snowmen year round! 
Sweet Vanilla Risotto – This sweet rice from LinsFood is super easy to make and delicious any time of the year, but especially in autumn!
Vegan Black Bean Brownies – These vegan black bean brownies from Rhian's Recipes are secretly healthy and full of plant-based protein and fiber!
Vegan Rice Pudding with Warm Cherries – Rice pudding is a classic comforting dessert that's easy to prepare vegan. With this easy recipe from Ve Eat Cook Bake, you can make a quick lunch, snack. Prepare the vegan rice pudding with plant milk and hot cherries and eat at any time of the year. A fast well-being food which you have whipped up in minutes. 
The Post Over 100 Delicious Gluten-Free Beans and Rice Recipes appeared first on Raias Recipes