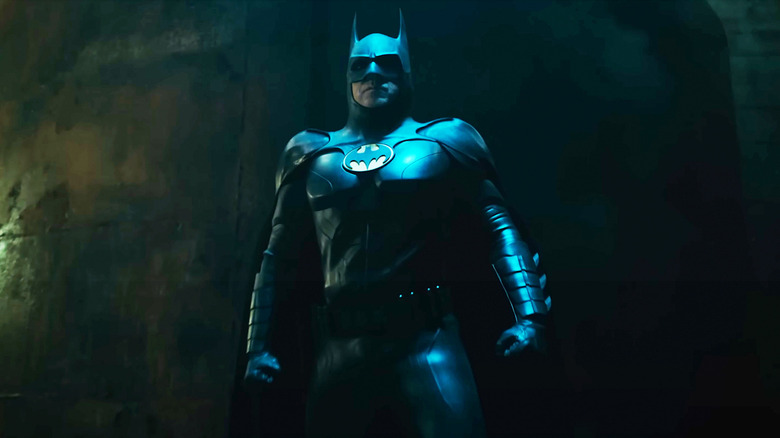 The DC Extended Universe continues its protracted farewell tour as Warner Bros. prepares to unleash what looks to be the best of the remaining projects produced under former DC Films head Walter Hamada. "The Flash" will debut in theaters June 16, and based on test screening buzz and new DC studios co-head James Gunn's comment that it was one of the best superhero movies he's seen, it looks set to be a good one. 
The movie has a lot going for it: an epic multiversal story based on the beloved "Flashpoint" comic storyline, the introduction of a new Supergirl played by Sasha Calle, the (brief) return of Ben Affleck's Batman, and a story that will reset the DC on-screen universe — setting up Gunn and his plans for a whole new slate of DC movies. But for any child of the 80s and 90s, perhaps the biggest draw is the return of Michael Keaton's Batman. The star of 1989's "Batman" and 1992's "Batman Returns" is back, and this time he's helping Ezra Miller's Barry Allen traverse his timeline-hopping adventure.
Keaton hasn't suited up since "Batman Returns," which makes his appearance in "The Flash" a big deal for anyone who remembers him as the definitive and best on-screen Batman. And while the movie won't officially debut for months, /Film's Jenna Busch attended an early screening ahead of its highly-anticipated premiere at the ongoing CinemaCon event in Las Vegas. And during a post-screening Q&A with director Andy Muschietti and producer Barbara Muschietti, the pair recalled what it was like working with the original movie Batman.
Meeting Michael Keaton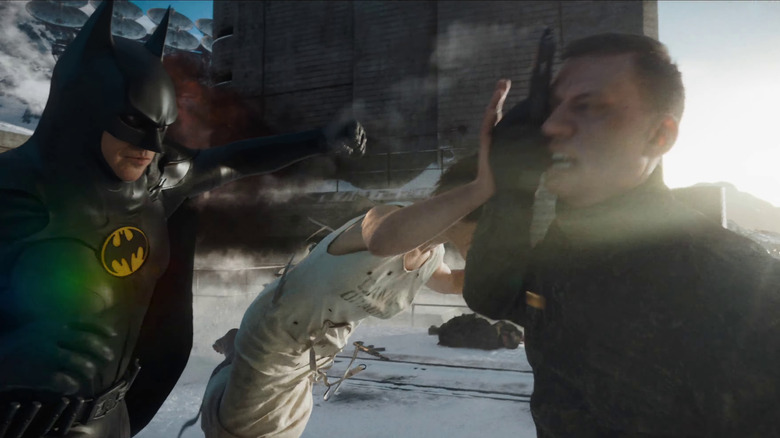 Michael Keaton was originally a controversial choice to play Batman. When director Tim Burton cast him in his 1989 film, fans were outraged. How was the man known for "Mr. Mom" and "Beetlejuice" going to convincingly portray the Dark Knight? Well, as Burton saw it, Keaton was the kind of man who would need to dress up to become physically imposing enough to fight criminals. And that turned out to be an insightful take, with both "Batman" and "Batman Returns" proving to be major box office successes, and establishing Keaton as perfectly capable of leading a superhero movie.
And what was most surprising about the actor's performance was that his slightly erratic comedic energy actually made for a truly compelling take on Bruce Wayne. Keaton did his best to restrain that side of himself, resulting in a Wayne who, while quiet and brooding, felt like he could snap at any minute. But when Keaton met Andy and Barbara Muschietti for the first time to talk "The Flash," his high energy was, evidently, on full display.
The director and producer recalled how they took Keaton to lunch at an Italian restaurant, where, according to Barbara, he, "came in jogging, sat down, we had food, he rolled the script literally under his arm and left jogging, as well." That prompted the producer to dub him the, "most energetic human being ever made." And that energy carried over to the set of "The Flash," where Keaton apparently had to be kept busy because, as Barabara put it, "You don't want that man bored." But when it actually came time to don the Batsuit, Keaton actually seemed to enjoy a moment of quiet reflection.
'Can You Take A Picture?'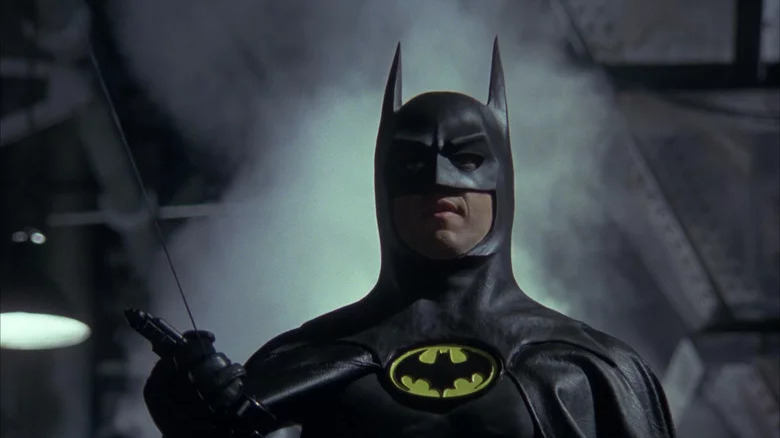 While Michael Keaton was clearly excited to return to the role of Batman, even he was seemingly taken aback by the scale of the situation. Andy Muschietti explained how he and his production team had built the Batcave used in "The Flash," sans waterfall, at Warner Bros. UK studios in Leavesden. According to the director, Keaton, "doesn't show his emotions a lot," but when he first stepped on that set as Batman, he had an obvious emotional reaction. Muschietti said, "I didn't want to interrupt him or anything I just wanted for him to just take it in. Who knows what was going on there but something was going on there."
What's more, as Barbara Muschietti explained, "Michael hadn't put on the suit for 30 years and actually the last time he had put on the suit, Sean, his son, [...] was a little kid." That led to a heartwarming moment on set, which Andy recalled:
"It was funny because at one point [in] the first scene that we shoot where he's wearing the full suit, he's like 'Can you take a picture? It's for my grandson' And it filled me with, I have goosebumps right now. It's one of those moments where he really showed something that was inside, very emotional."
Barbara added, "Basically he got to show his tiny grandkid he was Batman. It was amazing, it was truly amazing."
Keaton Returns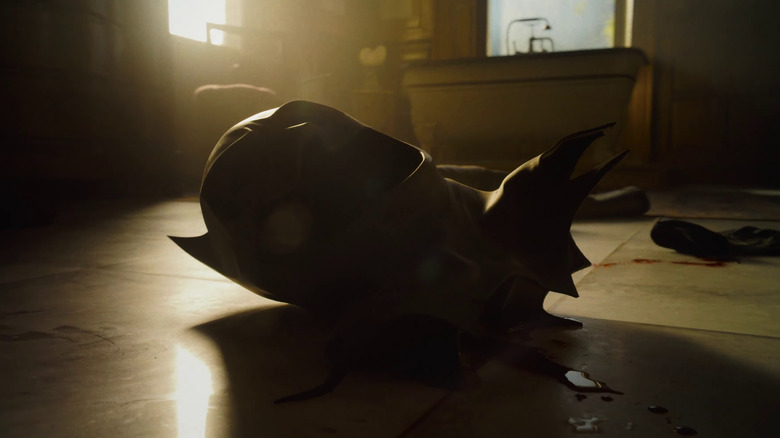 It's been 30 years since Michael Keaton walked away from Batman. After Joel Schumacher took over as director and decided to push the movies in a more lighthearted direction, Keaton was emphatically out. Luckily, he fit right back into the Batsuit when he was asked back for "The Flash," which must have been a surreal experience for the 71-year-old.
Since making somewhat of a comeback following his Oscar-nominated turn in 2015's "Birdman," Keaton has been cropping up in all manner of projects, from his Marvel Cinematic Universe debut as Vulture in "Spiderman: Homecoming" to playing a doctor who becomes addicted to the very medication he prescribes patients in Hulu's excellent chronicle of the opioid crisis "Dopesick." Fans of the actor know how capable the man is, and he's been reasserting his talents impressively in recent years.
But there's no doubt that his biggest role remains Batman. As such, it really is going to be a thrill to see him suit up once again, and not just for his grandson. For many, Keaton remains the definitive on-screen Batman, and there remains something truly iconic about the black rubber suit and yellow chest emblem. While I have my reservations about Keaton's return in "The Flash," just having the image of him as Batman back on the big screen is unquestionably a big deal. And it's nice to know that wasn't lost on the man himself when he first stepped on "The Flash" set.
Read this next: Every Batman Movie And The Real-World Fears They Highlight
The post Michael Keaton Wanted Pictures on the Flash Set to Show His Grandson He Was Batman appeared first on /Film.