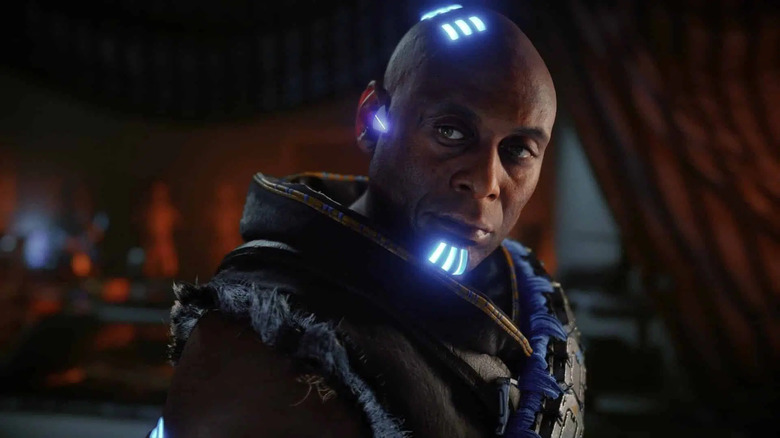 Sometimes you read a headline that feels so impossibly off-balance with the world, you can't help but wonder if you're living in a simulation or the world's worst season of "The Truman Show." Today was one of those days, as we tragically lost Lance Reddick, one of the most remarkable figures in film and television. Reddick was best known for playing Cedric Daniels on the hit HBO series "The Wire," which led to a fruitful career playing other authority figures because no one on the planet can pull off a uniform quite like he could.
But Lance Reddick was so much more than a cool bald guy in a freshly-pressed suit with optional wire-rim glasses. The man was also a formidable presence in genre projects, both big and small. He was one of those performers who could elevate any story simply by being on screen, exuding an immeasurable amount of charisma that turned any character into an instant favorite. Whether it was a micro-budget horror movie that no one actually saw outside of a festival run or bringing to life characters in video games like "Horizon: Forbidden West," Reddick's fanbase spanned multiple generations and demographics. 
He was that damn cool.
A Staple Of Genre-Bending Indie Films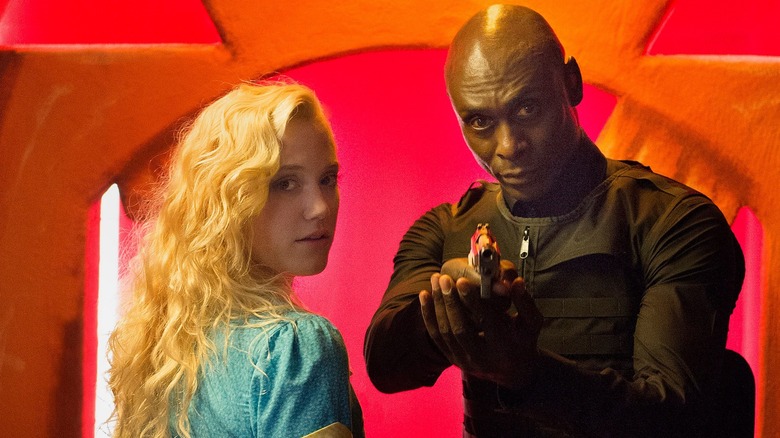 2014 was a huge year for Lance Reddick. He appeared in a small but mighty role in Riley Stearns' feature film debut, "Faults," before absolutely blowing everyone away as Major Richard Carver in Adam Wingard and Simon Barrett's cult hit, "The Guest." I caught the film in theaters, having had to drive nearly an hour away to do so, and immediately fell in love with the genre-bending thriller. But a moment that is forever etched in my brain was when Reddick shows up at the Peterson family home for the first time with an armed team, and there's a firefight. One of my fellow audience members, some random dude from Nowheresville, Ohio, erupted in his seat, screaming, "What a f***ing badass!"
God, was he ever right. Lance Reddick maintained a strong reputation as a force in independent genre films, later appearing in the grisly, weirdly underseen "Monster Party" as the leader of a group of recovering serial killers. He would often play roles of dominance, like Officer Carter in Nia DaCosta's debut feature, "Little Woods," or his hilarious turn as Pastor Mike in the comedy flick, "Faith Based." That was the magic of a guy like Lance Reddick. He could be given a character description of a dangerous military leader trying to subdue his own illegally failed experiment and turn him into a hero, or provide an empathetic approach to healing to people often viewed by society as nothing more than monsters, and have us rooting for his survival and success. No matter what the role called for, Reddick would have the audience enraptured.
A Terrific TV Presence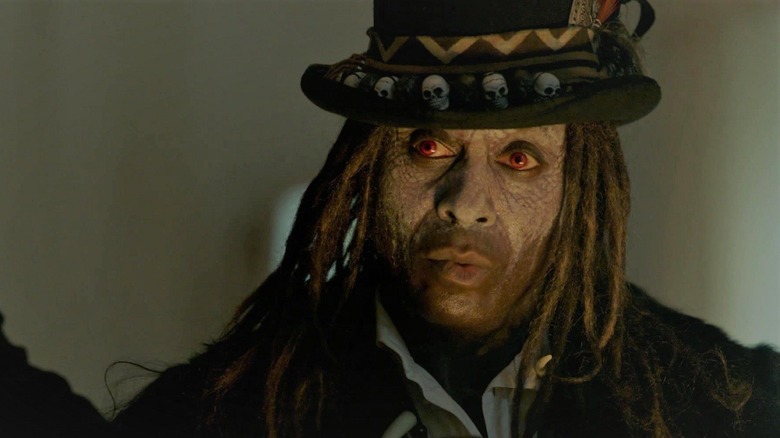 After his fantastic turn on "The Wire," Reddick appeared on the sci-fi series "Fringe" as Homeland Security Special Agent and head of the Fringe division, Phillip Broyles. While the role allowed Reddick to continue playing to his strengths as an authority figure, the world of "Fringe" dealt with parallel universes, alternate versions of characters, and unexplainable phenomena. The series always ran the risk of going off the rails given its otherworldly storylines, but Reddick expertly kept the show grounded and human. 
You'd be forgiven if you didn't recognize Reddick in the hit series "American Horror Story," as he completely transformed himself into Papa Legba, the Gatekeeper of the Spirit World. Based on the very real figure from the Haitian Vodou religion, the character appeared in the "Coven" and "Apocalypse" seasons, and Reddick was absolutely mesmerizing. These were seasons dealing with serial killers, witchcraft, a Frankensteined Evan Peters, and a Kathy Bates Terminator, but Papa Legba was the one giving fans nightmares. Grim Reaper, eat your heart out.
Most recently, Reddick took on a certifiable horror heavy hitter by tackling the role of Albert Wesker in the Netflix "Resident Evil" series. The show was tragically cut short after one season, but Reddick's handling of the character was universally praised. Wesker runs the risk of feeling like a stock, almost robotic '80s action villain, but Reddick completely transformed him into a deep, layered, and complicated figure. The show would not have worked without his inspired casting. And because Lance Reddick could do literally anything, he was also an absolute force on "The Legend of Vox Machina," the animated adaptation of the first campaign of "Critical Role." Reddick voiced the mad red dragon Thordak, striking fear into the hearts of anyone who crossed him.
A Blockbuster Badass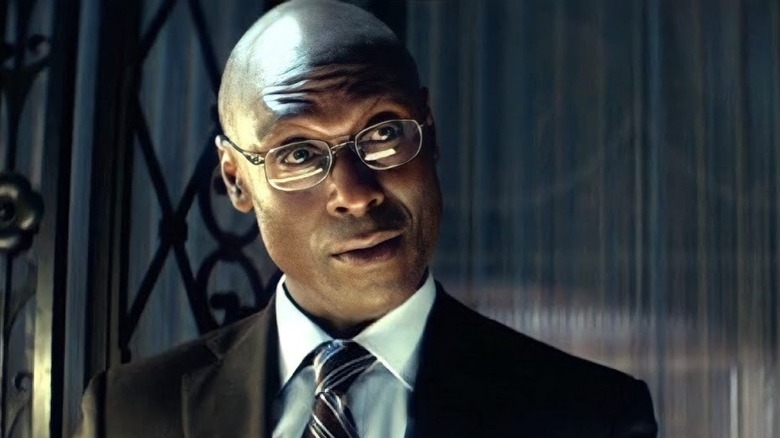 Lance Reddick delivered consistently great performances in films and TV shows across a multitude of budgets, and by all accounts, was an absolute delight to be around on set. It's this stellar reputation across the board that helped him gain roles in big-budget blockbusters (like the "White House Down" and "Angel Has Fallen"), but if they had a genre spin to them, he might as well have been a secret weapon. 2014 wasn't just the year of "Faults" and "The Guest," it was also the year of the first "John Wick." At the time, the Keanu Reeves action flick was supposed to be a cool, one-off picture, but has since blossomed into one of the most consistently kick-ass film franchises in history. Reddick has played Charon in all four "John Wick" films, and is also slated to posthumously appear in the spin-off, "Ballerina." 
Reddick reunited with "The Guest" director Adam Wingard when he was cast as Guillermin in "Godzilla vs. Kong," with his cameo appearance ultimately the result of necessary edits. But, considering Reddick is as captivating as always, I actively cheered when he showed up on the screen, as did plenty of others watching from the back of their truck flatbeds at the drive-in. There was no one like Lance Reddick and the world of genre entertainment is better because of his inclusion. There was no such thing as a mediocre Lance Reddick performance, even if the film or series had much to be desired. Sometime next year, things will be bittersweet when he appears in the Disney+ series "Percy Jackson and the Olympians" as the all-powerful God, Zeus. Reddick has consistently stolen scenes throughout his career, and a role like Zeus was a character finally big enough to match the worth of his gifts.Things just won't be the same without him.
Read this next: The 95 Best Sci-Fi Movies Ever
The post Lance Reddick Was Every Genre Project's Secret Weapon appeared first on /Film.