Affirm, Klarna, and other buy now, pay later plans now let you take out loans for just about anything, even a fast-food order. Consumer advocates don't think that's a great idea.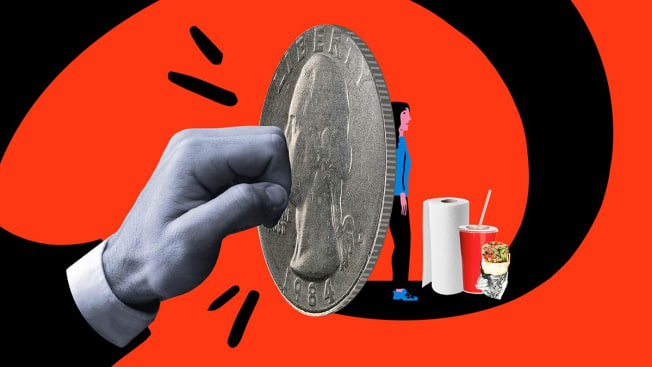 By Ryan Felton
On a recent weekday, too tired to cook, my wife and I ordered takeout from Chipotle. The food came fast, but the tab will be taking its time. Thanks to a small loan through fintech startup Zip, I don't have to pay for the two burritos, plus sodas and sides, for the next 42 days. 
When so-called buy now, pay later (BNPL) loans from financial technology companies emerged a few years ago as a way to pay in installments for purchases, they were marketed as an option for splurge moments, like when you buy a pricey pair of shoes or a new TV. The loans are typically short-term and interest-free.
But as more and more retailers over the past year have begun making such payment plans available, so have the range of things consumers can buy with a BNPL loan—even groceries and household goods. 
BNPL lenders say their products provide an alternative to potentially high-interest credit cards and make it easier for people to budget. Built-in protections exist so customers don't face significant adverse financial consequences if they miss a payment, they add. 
Consumers have flocked to the services. About 1 in 5 Americans have used a BNPL service, according to a nationally representative survey of 2,174 US adults (PDF) conducted in January 2022 by Consumer Reports. And many people who've shared stories with CR about these services say they would use them again.
Spending with BNPL now represents almost 4 percent of all U.S. online retail transactions, according to a February report from FIS, a financial technology company, a number that's almost certain to grow as financing options continue to proliferate. 
But consumer advocates say the creep of BNPL into just about every facet of shopping heightens concerns about the new financing trend, which they say can indeed have costly financial consequences and put people into untenable levels of debt. They point out that there are penalties and, potentially, interest charges for missing more than one payment. And they don't offer the same consumer protections that credit cards do.
"One of the biggest issues we've seen with buy now pay later is that, generally, no assessment is made about whether someone using this financing has the ability to repay that debt," says Marisabel Torres, at the Center for Responsible Lending, a consumer advocacy organization.
Those concerns have attracted the attention of regulators: In December, the Consumer Financial Protection Bureau opened an inquiry into the business practices of five leading BNPL providers in the U.S., including Affirm, Afterpay, Klarna, PayPal, and Zip. 
Chuck Bell, a financial policy advocate at Consumer Reports, says some consumers may struggle to juggle automatic payments on small loans from multiple BNPL lenders, which unlike most financial institutions typically conduct only a "soft" credit inquiry before agreeing to lend money.
Indeed, a survey conducted in August 2021 on behalf of the finance company Credit Karma found that 34 percent of consumers who used BNPL services fell behind on one or more payments. The survey found that 72 percent of those who missed a payment believed their credit score dropped as a result. 
Personal bankruptcy filings also show how easy it is for individuals who are already financially stretched to tap BNPL lenders: One Florida woman who filed in 2020 listed 43 individual loans from a single lender on her bankruptcy petition.
Another concern: Consumers may spend more than they normally would without a BNPL service, advocates say. In the CR survey, of those who'd used a BNPL loan, 47 percent said that they didn't have enough money to purchase what they wanted and that the service enabled them to afford it. 
"A 0 percent interest, pay-in-4 loan can be a great deal, if you are confident you'll have the funds to pay it back," says CR's Bell. "But it can be a risky proposition for people who are living paycheck to paycheck, who may take on more debt than they can reasonably afford. People are understandably afraid of credit card debt, but you can also run up a lot of BNPL debt that will have a similar negative impact."
Dropping Credit Scores
Failing to pay a BNPL loan on time can hurt a customer's credit score—something New York resident Alana Cimillo says she learned the hard way.
In 2019, Cimillo learned that her ex-fiancé used her Social Security number without her knowledge to take out 23 loans from Affirm, according to allegations in a lawsuit filed in November, and he'd allegedly failed to fully repay 18 of them. 
It wasn't until she heard from a collections agency retained by Affirm that Cimillo understood the extent of the issue, the suit says. Cimillo reported what she describes as identity theft to police, and disputed the loans directly with Affirm multiple times throughout 2020. But Affirm ultimately concluded that the loans were valid and that Cimillo was responsible for paying them, the suit alleges. (CR isn't naming the ex-fiancé because he hasn't been criminally charged.)
By mid-2021, the suit says, Cimillo received alerts that her FICO credit score had dropped from almost 800 to 674. She felt the effect of that when she went to buy a car that July and learned from the dealer that she wasn't eligible for the promotional 0.9 percent car loan interest rate, "and that the best interest rate she could get would be 4.9%," according to her complaint.
Affirm declined to comment. Adam Singer, Cimillo's attorney, declined to comment specifically on the case, citing the pending litigation, but he says it's concerning that consumers can attain so many BNPL loans at once. He would not be surprised, he says, if someone were to lose track of payment schedules, given the potentially high number of loans, and that if one went delinquent, the consumer would likely see an impact on their credit score. 
"They could have great credit, but all of a sudden they could now have a serious delinquency, " he says. 
Policies on whether delinquent loans get reported to a credit bureau vary by lender. Afterpay and Klarna, for example, say they do not report missed payments to credit bureaus, while Affirm says some delinquencies do end up getting reported. 
While Cimillo's case is an extraordinary example of how small BNPL loans can cause problems for a consumer, CR's Bell says her situation underscores the potential risks of making the payment plans available to pay for virtually anything.
"The popular image of BNPL loans is that borrowers use them selectively to buy one or a few items at the same time," he says. "But some users have been able to stack up multiple loans, similar to a revolving line of credit." 
"Some BPNL products allow you to spend up to a high credit limit, but unlike credit cards, they're not regulated to require an assessment of ability to repay or to provide regular consolidated billing statements," he adds. "The borrower might underestimate the risk of charging a lot of purchases to her account." 
When an Interest-Free Loan Isn't So Free
Another unusual characteristic of BNPL loans is that, unlike most debt, consumers can sometimes use credit cards to make their payments, says Torres of the Center for Responsible Lending. Credit card companies typically do not permit certain other types of debt payment. 
In testimony before Congress last November, Torres noted that credit cards, for example, can't be used to make payments on federal student loans or monthly debt held on a different credit card. Those concerns led at least one company, Capital One, to announce that it would no longer let its customers use their credit cards to make BNPL payments, according to news reports. (Capital One is testing a BNPL option of its own, according to other news reports.)
"That is not in the best interest of consumers," Torres tells CR of the ability to use credit cards for payments. About one-third of credit card accounts carried over a balance in the third quarter of 2021, according to the American Bankers Association, making their debt much more expensive. 
BNPL lenders say most customers use a debit card or bank account to make payments, but credit cards are indeed used by some BNPL consumers. 
Affirm says consumers "may be able to pay with a credit card for the first payment and installments." 
Afterpay, in a statement, said that 95 percent of customer payments are made on time and that 90 percent of transactions are made with debit cards. 
"Technically it is possible for a customer to use a credit card to make an Afterpay payment and if that customer decides to revolve his/her credit card balance, there may be interest charged to that customer," Afterpay says. 
Klarna says the "vast majority" of its customers use debit cards or direct withdrawals from bank accounts, to make payments. PayPal didn't respond to questions about credit card payments, and a Zip spokesperson didn't provide comments by press time.
A $10 Loan for Paper Towels
BNPL lenders generally set a minimum amount you must spend in order to receive financing. To order Chipotle through Zip, for example, I had to spend at least $35. 
The company, like most lenders, requires users to pay 25 percent up front, and then pay down the remaining balance over four equal biweekly installments. In the case of Zip, a $1 fee is assessed per installment, meaning my installments worked out to $9.75 each. 
At $10, Klarna, at least for now, appears to set the lowest loan threshold. When cleaning up after our Chipotle feast, my wife and I realized we were out of paper towels, so I signed up for Klarna and, within minutes, had ordered $10 worth of paper towels from Target on a payment plan. My four installments worked out to about $2.60 each.
While most consumers might not be inclined to take out a $10 paper towel loan, the ability to finance anything and everything is likely to grow. 
For example, a new startup, Zilch, is set to launch in the U.S. in the coming months, a spokesperson says, and the company's service can be used to pay for anything, even a coffee from a local café. (The spokesperson says the average transaction for its BNPL installment product in the U.K., where Zilch currently operates, ranges from $65 to $90.) 
"Consumers tend to think they'll have more money to pay bills next month, or the month after that," Bell says. "The BPNL payment method is propelled by your optimism that you can handle the purchase in installments that are due over the next six to eight weeks. But why would you want to finance regularly recurring expenses like groceries with BPNL? Chances are excellent that next month, you'll be buying those things again, so then you'll have last month's bills on top of the current ones."
What to Know About Buy Now, Pay Later Loans
Advocates and financial experts say consumers might consider using credit cards instead of BNPL loans. The former have protections that BNPL loans don't match. If there is a dispute about a charge, or a refund is needed, credit card issuers will pause repayment until the issue is settled. Conversely, some customers have reported having trouble getting refunds for items that were purchased with a BNPL loan but never delivered because of pandemic-related supply chain issues.
In addition, many credit cards offer robust cash-back rewards for purchases, as well as insurance for rental cars, extended warranties, and protection for items that get damaged or stolen. When you pay your bill on time, credit card issuers report your good behavior to the credit bureaus, which can help you boost your credit score. 
Some BNPL lenders may send delinquent loans to debt collectors, though each has different terms for how that may be done. If you take out a BNPL loan, make sure to read the fine print about how payments and collections could be handled. 
"Don't just click through the website or app permission screens on the fly," CR's Bell says. "You could easily miss the facts you need to know." 
Consumer Reports is an independent, nonprofit organization that works side by side with consumers to create a fairer, safer, and healthier world. CR does not endorse products or services, and does not accept advertising. Copyright © 2022, Consumer Reports, Inc.