Yellow diamonds are fast rising in popularity as one of the most attractive and appealing varieties of coloured diamonds.
Their bright yellow hues are often associated with joy, creativity and innovation. They're also one of the most common coloured diamonds available to buy on the market, though this doesn't mean that they're not still highly coveted by collectors and jewellery lovers alike.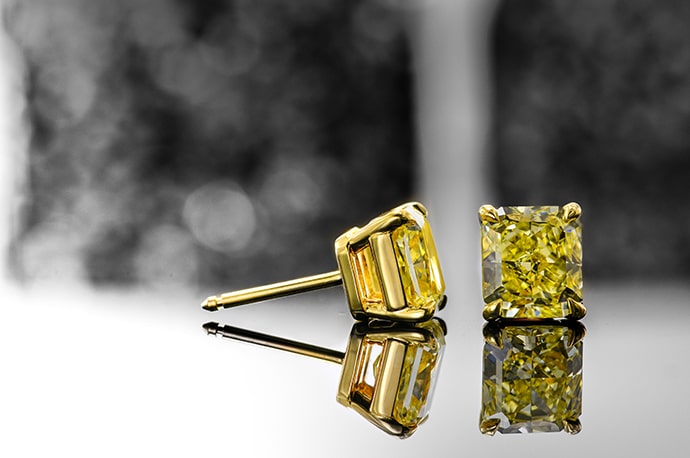 And when set into a pair of earrings that brings out their best qualities, the appeal of yellow diamonds can really become evident.
In this article, we'll outline the basic information you need to know about yellow diamond earrings, including what to look for and the different types available.
Be sure to visit Astteria for their full range of stunning coloured diamond jewellery.
Types of Yellow Diamonds
Yellow diamonds are primarily sorted into categories based on the intensity and vividness of the yellow hue of the gemstone. The categories are as follows:
Fancy Light Yellow Diamond
Fancy Yellow Diamond
Fancy Dark Yellow Diamond
Fancy Deep Yellow Diamond
Fancy Intense Yellow Diamond
Fancy Vivid Yellow Diamond
As a general rule of thumb, the more intense the yellow colouration, the more expensive and sought after the diamond will be.
Consequently, a more pale or lighter-coloured diamond might be a better choice if you're looking for a more reasonable deal in terms of pricing.
Types of Yellow Diamond Earrings
You will often find yellow diamonds in three types of earrings, listed below.
Stud Earrings
The classic stud is the most simple and timeless way to showcase diamond gemstones. They're also endlessly customisable to suit most tastes and preferences.
For example, stud earrings are an excellent way to showcase many different shapes and cuts of yellow diamonds. Round, oval, princess and cushion cut are some of the most common, but more unusual shapes such as heart and asscher cut diamonds can also work very well.
Hoop Earrings
Hoop earrings put a more contemporary twist on earrings by mounting several diamonds in a row or cluster that dangle from each ear lobe.
These can be mounted using yellow gold, white gold, silver or platinum, depending on the intensity of the diamonds and how intense you'd like the yellow hues to come across.
Hoop earrings can also have one, two or three rows of diamonds, depending on your budget.
Drop Earrings
Drop earrings are one of the most eye-catching and attention-grabbing earring types available. When paired with yellow diamonds, they can be a stunning focal point for any outfit.
These earrings often feature a centre stone with a subtle surround (or "halo") of smaller gemstones, enhancing the natural beauty of the yellow diamond with a gentle contrast.
Closing Thoughts
When chosen carefully, yellow diamond earrings can complement both your clothing and accessory choices while letting the stunning natural qualities of the gemstone shine through.
Interested in learning more about the different types and varieties of diamond earrings available?
Astteria have a wide selection of rare, exquisite and high-quality diamond jewellery for the discerning diamond admirer. Be sure to visit their website to view their full range today.
The post Everything You Need to Know About Yellow Diamond Earrings appeared first on Style Motivation.