Tough, capable, over-the-shoulder and ready for action, our Best Active Messenger is good to go whenever you are…
1st Place
Greenroom136 have been in the bag-making business for a decade, honing designs that are tough, practical, and made to help you get out there. The METRORUNNER01 takes the standard Metrorunner model to the next level, decking it out with technical materials and hardware and delivering a feature-rich bag ready to tackle active use.
Factor in the value you get in return for your hard-earned and this becomes one truly epic release.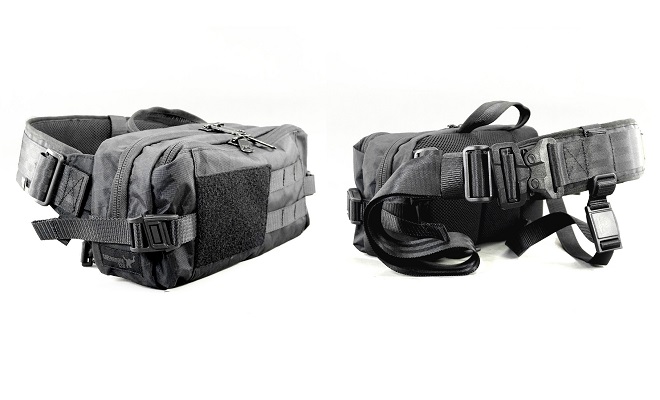 This bag is handmade in Greenroom136's very own Malaysian workshop and is built like a beast. Fidlock magnetic buckles, durable X-Pac fabric, and a beefy AustriAlpin Cobra buckle for the shoulder strap bring a sense of high-quality ruggedness to this bag. Speaking of the strap, it offers a wide and well-padded design for comfy carry, with a stabilizer strap when it's time for action. The strap is ambidextrous and the Cobra buckle offers an easy way to release and secure the strap, so you can quickly access gear or adjust the bag on the fly.
Dual compartments and an assortment of pockets provide convenient organization, with a bright lining making it even easier to quickly spot and retrieve individual items. Want even more options? The Tactical version of the bag includes exterior PALS webbing too, great for securing pouches or other items you want to keep quickly accessible. And while this burly bag can haul a surprising amount, when you want to keep things lean and agile, side compression straps cinch things down neat and tidy.
When you need a bag that can handle demanding use, embracing everything from bike rides to urban sightseeing trips and more, all while keeping gear well organized and comfy on the go, the METRORUNNER01 confidently leaps forward. Tough and versatile, it's a dependable companion for day-to-day and adventurous use alike. Highly impressive, Greenroom136!
---
Highly Commended
These are the pieces that just missed out, and in most cases, by the smallest of margins. To them, we award a High Commendation. The below were of outstanding quality, displaying fine craftsmanship and design flair. With honor, we bow our heads in the utmost respect and kudos. If this were a dais, they'd be biting their teeth into silver medals, while their flags were hoisted into the horizon – a feat not to be overlooked. And we're sure they'll be back, to take it one notch higher, next year.
---
Apidura have extensive experience creating bags for bikepacking. The kind of bags that will take a beating, laugh at the elements, and keep on going strong while securely hauling your gear across the far-flung reaches of the planet. But why couldn't that expertise be useful in an urban setting too? Turns out, it's incredibly useful. Tough, lightweight, and waterproof, the Apidura City Messenger is built to handle whatever weather the daily grind has in store. All in a clean, urban-friendly style that sheds traditional bike messenger aesthetics for a more work-friendly look.
The slim but comfy neoprene strap lets you carry the bag high and tight and is ambidextrous to suit your carry preferences. You've also got flexible access, with a hook-and-loop and G-hook combo; quickly open or secure the flap throughout the day and attach the G-hook when you want a little added security on the go. The organization is simple and effective, with a zippered pocket under the flap, as well as a laptop sleeve and some slip pockets in the main compartment. The City Messenger achieves the tricky task of merging technical construction with work-appropriate functionality and style. All in a piece that moves nimbly from the bike to two feet. A refined take on a bike-friendly work messenger, it's a solid choice for daily commutes and bike trips about town. Inspiring work, Apidura!
---
Bike carry and fashion-forward aesthetics don't often go together. But Ally Capellino asks the simple question, "Why not?" Followed up with the simple and elegant Kenny satchel. Built with lightweight durability and weather protection in mind, the bag features water-resistant Cordura© nylon and bridle leather details for that luxurious touch. A weatherproof quick-access pocket provides handy storage for small essentials, while interior pockets provide options to store tech (ideally in a sleeve) and other work or EDC items.
While the shoulder strap isn't the traditional messenger-style design, it's comfortable and adjustable, allowing you to easily move between shoulder bag or cross-body carry. Suavely functional, the Kenny offers a classy take on a daily commuting bag. Creating a piece that can move from the bike to the boardroom is no easy feat, but Ally Capellino have done it with this stylish satchel. Great work!
–
The post Best Active Shoulder Bag Champion | Carry Awards IX appeared first on Carryology - Exploring better ways to carry.