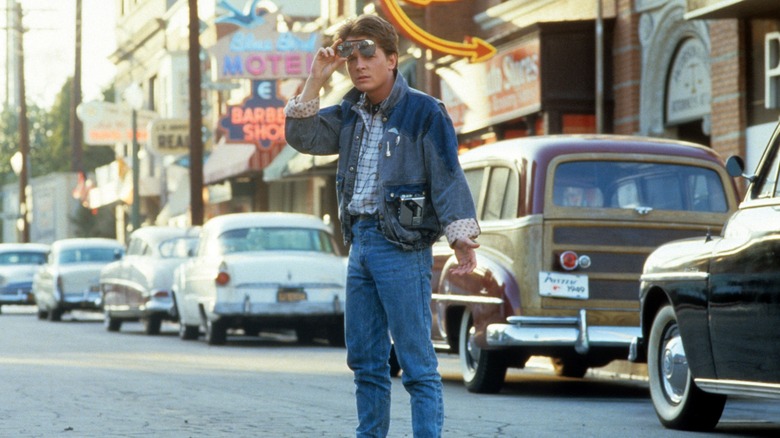 There has been a long history of Hollywood actors being replaced during the production of a movie. The reasons vary; they just weren't right for the role, or they butted heads with so-and-so, or disagreed with the director on their creative vision. While these incidents may have been stressful and unpleasant for the actors at the time, there is one thing that stands out when you look at any list of mid-production replacements. In almost every case, the replacement looks like the far better option, which is of course easy to say in hindsight.
During the '80s, Sylvester Stallone was riding high after the success of "Rocky III" and "First Blood," the movie that introduced his second iconic character. Next up was the lead role in "Beverly Hills Cop," but Stallone wrote his way out of the part by rejigging the screenplay to make it more action-packed. The studio thought it would cost too much money and Stallone walked, leaving the door open for Eddie Murphy, who really made the movie with his unconventional wisecracking style.
A few years later, a Belgian kickboxer not known for his height made an eye-catching baddie in "No Retreat, No Surrender." This led to Jean-Claude Van Damme being cast as an alien hunter in John McTiernan's "Predator" opposite Arnold Schwarzenegger. Several reasons for his departure have been speculated but whatever the truth, Van Damme was replaced by Kevin Peter Hall. Standing at 7ft 2 inches, he dwarfed the star Arnold Schwarzenegger and turned the creature into a daunting physical threat, credibly making the Austrian Oak the underdog.
These decisions clearly have a big impact on the direction of a major motion picture and this brings us to one of the most famous re-castings in Hollywood history: That time Eric Stoltz was replaced by Michael J. Fox in "Back to the Future."
How Eric Stoltz Got The Part In Back To The Future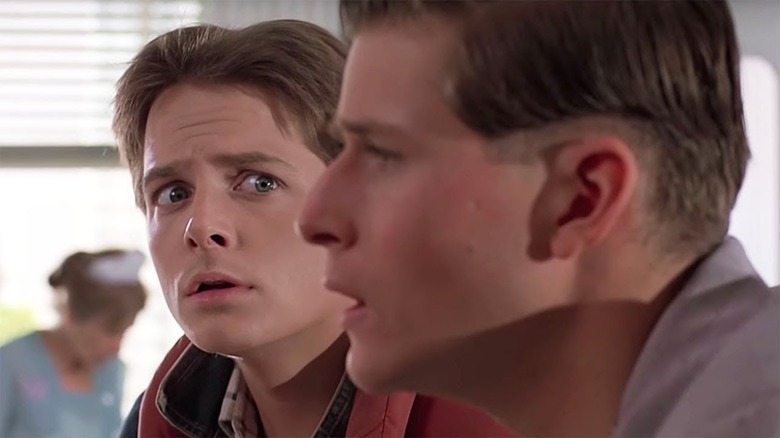 The inspiration for "Back to the Future" is one of those serendipitous Hollywood stories. After the middling comedy "Used Cars," co-screenwriter Bob Gale was visiting his folks when he happened upon his dad's high school yearbook. Leafing through the pages, he was struck by the notion: Would he and his father have been friends if they went to school together?
Over the next four years, that kernel of an idea became the screenplay for "Back to the Future," Gale's next film with his friend and regular collaborator Robert Zemeckis, who directed "Romancing the Stone" and achieved his first hit after the poor commercial performance of "Used Cars." Once the project was greenlit, they set about finding a young actor suitable to play Marty McFly, the Californian teenager who gets zapped back to the '50s in a time-traveling DeLorean.
Many actors were considered including Johnny Depp, who had caught the eye with a memorable death scene in "A Nightmare on Elm Street;" and Ralph Macchio, who was hot from the huge success of "The Karate Kid." Zemeckis and Gale wanted Michael J. Fox because they were impressed by his comic timing on "Family Ties," for which the actor won three Emmys. The show's producer was less than enthusiastic about sharing his star and reportedly never gave Fox the script.
Out of the long list of potentials, two names emerged as the frontrunners: C. Thomas Howell, who had just made "Red Dawn" with Patrick Swayze; and Eric Stoltz, whose impressive turn in "Mask" was later nominated for a Golden Globe. Universal CEO Sidney Sheinberg preferred the latter, so Stoltz got the part, reasoning that they could always re-shoot later with another actor if things went wrong.
Eric Stoltz's Method Acting Wasn't Right For Marty McFly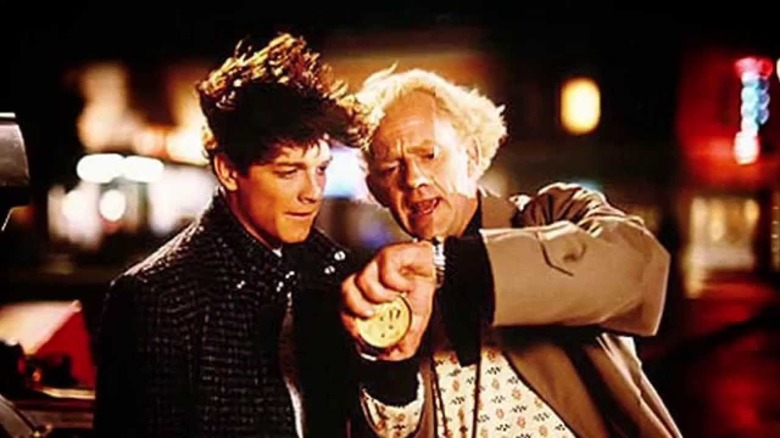 After cameras rolled on "Back to the Future" it quickly became clear that there was something off about Eric Stoltz in the lead role. He was a committed method actor, which came with the usual method eccentricities like refusing to answer to anything but his character's name. This approach was pretty intense, which didn't suit the role of a "slacker" teenager who's always late for school and loves playing rock guitar.
Lea Thompson, who plays Marty McFly's mom in both the '80s and '50s sections of the movie, was friends with Stoltz but recognized that he wasn't right for the part (via Vulture):
"Eric had such an intensity. He saw drama in things. He wasn't really a comedian, and they needed a comedian. He's super-funny in real life, but he didn't approach his work like that, and they really needed somebody who had those chops."
Stoltz's full-on technique also caused friction between him and another of his co-stars. Thomas F. Wilson, who memorably plays Hill Valley High's head bully Biff Tannen, was left with bruises after rehearsing a scene where Marty shoves him in the school canteen.
Some of the Stoltz footage still exists and it's fascinating to watch him in scenes that many of us know by heart from Fox's performance. It seems like his take on Marty would have been far more brooding. Just compare the alternate takes when Marty first arrives in Hill Valley town square and realizes he is in 1955. Stoltz's Marty runs across the street with purpose, while Fox makes him far more bewildered with neat comic touches like bumping into a lamppost and stumbling on the curb. From these moments we can see "Back to the Future" would have had a different tone altogether if Stoltz had remained in the role. 
Eric Stoltz Was Replaced By Michael J. Fox... But Still Had To Work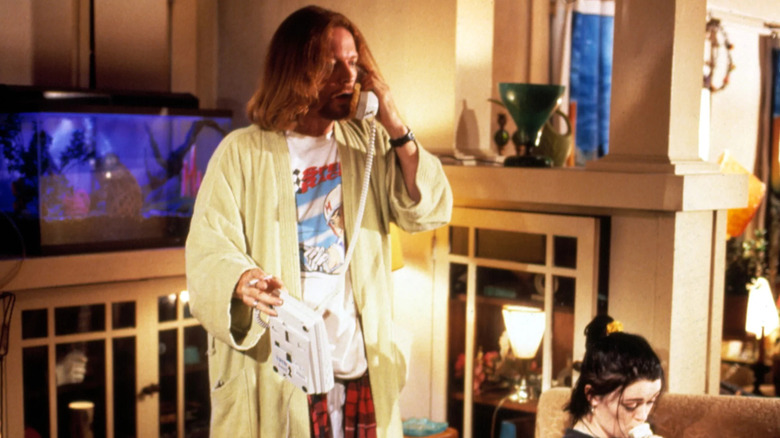 After a month of shooting, Robert Zemeckis, Bob Gale, and the other "Back to the Future" producers reviewed the footage and agreed that Eric Stoltz wasn't right for the role, lacking the comedic energy they wanted. Sid Sheinberg agreed to let them pursue their original choice, Michael J. Fox. This time they managed to come to an agreement with Gary Goldberg, the producer of "Family Ties," who would let his star sign on as long as the show remained his number one priority.
Zemeckis and Gale finally had their first pick but there was a snag. Fox wasn't available immediately, so the production carried on filming mostly useless footage with Stoltz still playing Marty, unaware he would soon receive his marching orders. For his part, Stoltz is reflective about his experience. As he told Moviehole in an interview:
"I think just getting through that difficult period helped me realize how freeing it really was. I went back to acting school, I moved to Europe, I did some plays in New York and I actually invested in myself in a way that was much healthier for me. If I had become a massive star, I don't know if I wouldn't have gone into therapy. On the other hand, I would've been exceedingly rich which would've been wonderful!"
Playing the part was tough on Fox, who worked almost around the clock for three months. He shot "Family Ties" during the day before heading over to the "Back to the Future" set to play Marty at night. Despite how exhausting that must have been, he battled through the tiredness to give his character a bright and breezy charm that is crucial to the movie's feel-good exuberance. As for Stoltz, we'll always have Lance in "Pulp Fiction."
Read this next: Sci-Fi Movies That Accurately Predicted The Future
The post Back to the Future: The Long Road to Replacing Eric Stoltz with Michael J. Fox appeared first on /Film.