If there's one thing that's always "in" in the fashion world, it's investing in quality over quantity. As capsule wardrobes become more and more popular, so does investing in timeless pieces over trendy ones. Not only is it more sustainable, but it saves you money in the long-run, and makes it easier to master your personal style in the meantime—win, win.
for all you procrastinators out there
"If you're going to spend your hard-earned money on items, they need to last," explained New York City-based style and image consultant and co-founder of The Style That Binds Us, Alison Bruhn. "Five inexpensive, 'almost but not quite right' shirts are not a substitute for one perfect fit."
Not sure what types of items to prioritize when building out a wardrobe that will serve you for the foreseeable future? We spoke with Bruhn about which pieces are worth investing in, regardless of your location or lifestyle. "With these few pieces, you can create multiple looks," she said. "These pieces should be timeless and be the foundations of  your wardrobe for seasons, if not years to come." 
Ready to start building out your forever wardrobe? Bruhn recommends investing in these five timeless essentials first.
Meet the expert
Alison Bruhn
1. An all-weather trench coat
A piece you'll never regret having in your wardrobe? A good, classic trench coat.
Bruhn suggests purchasing a trench in a tan, khaki, or stone color, and opting for a style that hits just above or below the knee to ensure it's feasible for casual and more formal occasions alike. Bruhn explained that a trench coat can be outwear you want to show off; not just a coat you throw on as an afterthought.
"Remember, your entrance and your exit are just as important as what you are wearing during an event," she said. "Think of Audrey Hepburn in her trench coat and black sunglasses—that image is forever ingrained in our collective memory. It's such a simple look that made a huge impact." 
When shopping for your trench coat, Bruhn explained that they don't have to be one-size-fits-all. "If you don't like clothes tied or belted at your waist, there are trench coats that have no belt, or you can tie the belt loosely across the back of the garment," Bruhn explained. Shop around, then decide which silhouette and details fit your personal style the most.
2. A simple black tote
Everyone has a need for a classic tote, and Bruhn recommends buying one that's the highest quality you can afford, and sticking to a black hue.
"The color doesn't show stains and is of minimalist design, so it can go with virtually everything," she explained. "A print or patterned tote in a bright color can limit you and may not look as polished, especially if you live in a city or work in certain industries like finance or law." 
For a high-quality tote that lasts but won't break the bank, our editors swear by Cuyana's totes.
Cuyana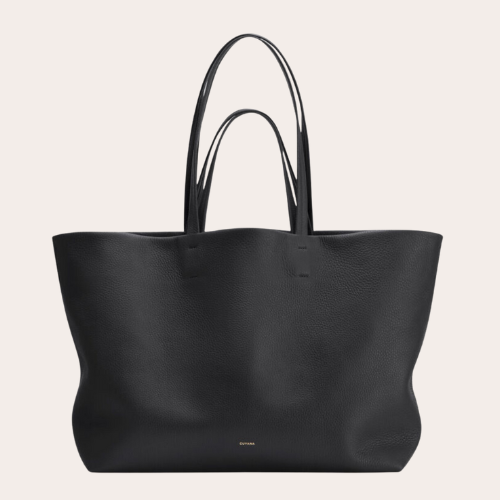 Cuyana
3. A high-quality pair of jeans
When it comes to denim, Bruhn explained that you'll want to turn a blind eye to what's trending, and focus on what's flattering instead.
"Do not necessarily choose the 'jean of the moment,' but rather the one that best fits your body type," Bruhn advised. "Jeans are a smart investment because of their durability, and these days, they can be worn dressed up or dressed down, depending on their wash or color," she said.
Higher quality jeans tend to wear better and stretch less throughout the day, and Bruhn explained that they're a good place to shell out a little extra cash due to how often they're worn. "It's smart to spend what you can on jeans, because they will be a 'hero piece' in your wardrobe." 
4. A classic black dress
There's a reason the LBD has remained such a classic over the decades, and Bruhn explained that a good black dress is still a staple in any wardrobe.
"Choose one with good lines in a timeless style, without embellishment," Bruhn suggested. "You'll be surprised how often you wear this dress, and if you choose the right one, how many compliments you will receive when wearing it."
Ideally, you'll land on a black dress that can be worn year-round, so stick to lightweight, season-less fabrics. If you choose the right one, you can wear it with a blazer for a day at the office, or with heels for a date night, and it can take you to both seamlessly. Brunching or shopping in the city? "Throw your trench coat over, add a pair of chic sunglasses, and voila!" said Bruhn.
5. Sunglasses that suit your face shape
Everyone needs a go-to pair of sunglasses, but especially a pair that flatters your face shape. This applies both to the shape of the frames as well as the color of them.
"Choose the metal or color based on your coloring," Bruhn said. "For cool-toned skin, choose silver or black frames; for warm-toned skin, tortoiseshell or gold works exceptionally well." 
The post 5 Timeless Pieces Worth Investing In, According to a NYC Stylist appeared first on The Everygirl.