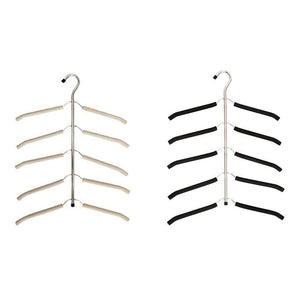 Longlasting Multi-Layer Suit Hangers, Stainless Steel Seamless Pant Slack Hangers Space Save Hanger Rack Household (Beige)
Regular price
$18.99
Sale price
$26.78
Brand: Longlasting
Color: Beige
Features:
Stainless Steel---durable, anti-rust, resist wear and tear, no burrs, strong yet slim.
Hanger hangers can be 360 ° flip , flat up the clothes hanging, the use of more convenient and convenient.
Sponge non-slip multi-layer hangers, layered storage of various types of clothing, to help you save wardrobe space.
Fish bone style, a protective cap for over the end of the hook, more suitable for multi-layer storage.
Can accommodate up to 5 pieces of clothing, both sides of the sponge non-slip, anti-fold anti-deformation.
Publisher: Longlasting
Details:
Product Features:

1. sponge non-slip multi-layer hangers, layered storage of various types of clothing, to help you save wardrobe space.

2. can accommodate up to 5 pieces of clothing, both sides of the sponge non-slip, anti-fold anti-deformation.

3. hanger hangers can be 360 ° flip , flat up the clothes hanging, the use of more convenient and convenient.

4. fish bone style , more suitable for multi-layer storage

Product parameters:

Material: Stainless steel + EVA sponge + Silicone

Product Size:as picture show

Packing list:

1 x hanger

UPC: 612080861992
EAN: 612080861992