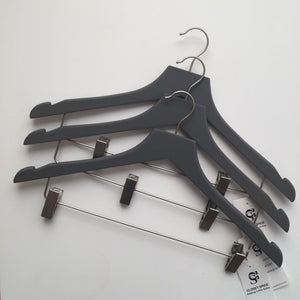 Closet Spice Rubber Felt Wood Suit Hangers with Clips - Set of 6 (Grey)
Regular price
$24.99
Sale price
$26.99
Looking for the ultimate wooden suit hanger with a clip? Well, look no further! These Closet Spice Lotus Wood Suit Hangers with clips in Matte Grey collar will maximize your closet space with this dual-purpose elegant lotus wood finish suit hanger. Designed for the well-kept people out there, to hang their skirt-suits. Keep your closet rod clutter free by hanging up a shirt, blouse or coat along with your trousers or skirt on a single hanger.
Dipped in special non-slip solution will keep your garments in place neatly hung and not on your closet floor. Specially designed for multi usage in your closet.
Lotus Wood Suit Hanger with Clips Features:
100% Pure Lotus Wood
Dipped in non-slip solution to prevent any creases and slip-off to your clothes
Hand-carved notches to hang your dresses with strap
Non-slip feature firmly grips clothing
Securely holds silk or satin clothing items
Durable and strong wooden construction
Clips can be used to hang skirt, trousers, shorts or jeans
Product Dimensions: 16.3" L x 8.6" H x 0.5" T
Color: Matte Grey 
Set of 6 pcs.