Are you looking for the top tools for hand lettering? Hi everyone! It's Mandy from @a_heartened_calling here to share my top five Tombow tools for hand lettering! I started hand lettering in January of 2016. A few months after I started, I got my hands on a Dual Brush Pen from Tombow. I fell in love with their pens and the rest is history! Since then, I consistently use certain Tombow products for my hand lettering art. I even use a few Tombow products you wouldn't think would be a necessity for hand lettering! No matter what level lettering artist you are, this post is for you! Maybe you've just started out and don't know which Tombow product is best. Maybe you're an intermediate artist but have never tried some of Tombow's markers and pens. Whatever the case, there's something here for everyone! So, let's dive in to my top five Tombow tools for lettering!
TOP TOOL #1 – Tombow MONO Drawing Pencils
My first top Tombow tool is the MONO Drawing Pencil. When I first started lettering, I just practiced lettering out words with my Dual Brush Pens. It wasn't until I wanted to start doing compositions that I very much needed a pencil. My art ALWAYS now begins with a sketch. Getting the composition right BEFORE I start to ink my art is super helpful to me. Not only do I save on paper and not running out my markers faster, but I gained much more confidence in how the final artwork comes out. There's no fear that I'm going to mess up!
Sketching with these pencils is the way I use them the most. I do use them for pencil calligraphy as well. I'll sketch out my composition using any of the lower H pencils and trace over it with a 5B or 6B pencil using faux calligraphy. The higher B pencils have a darker degree making them perfect for a final lettering piece!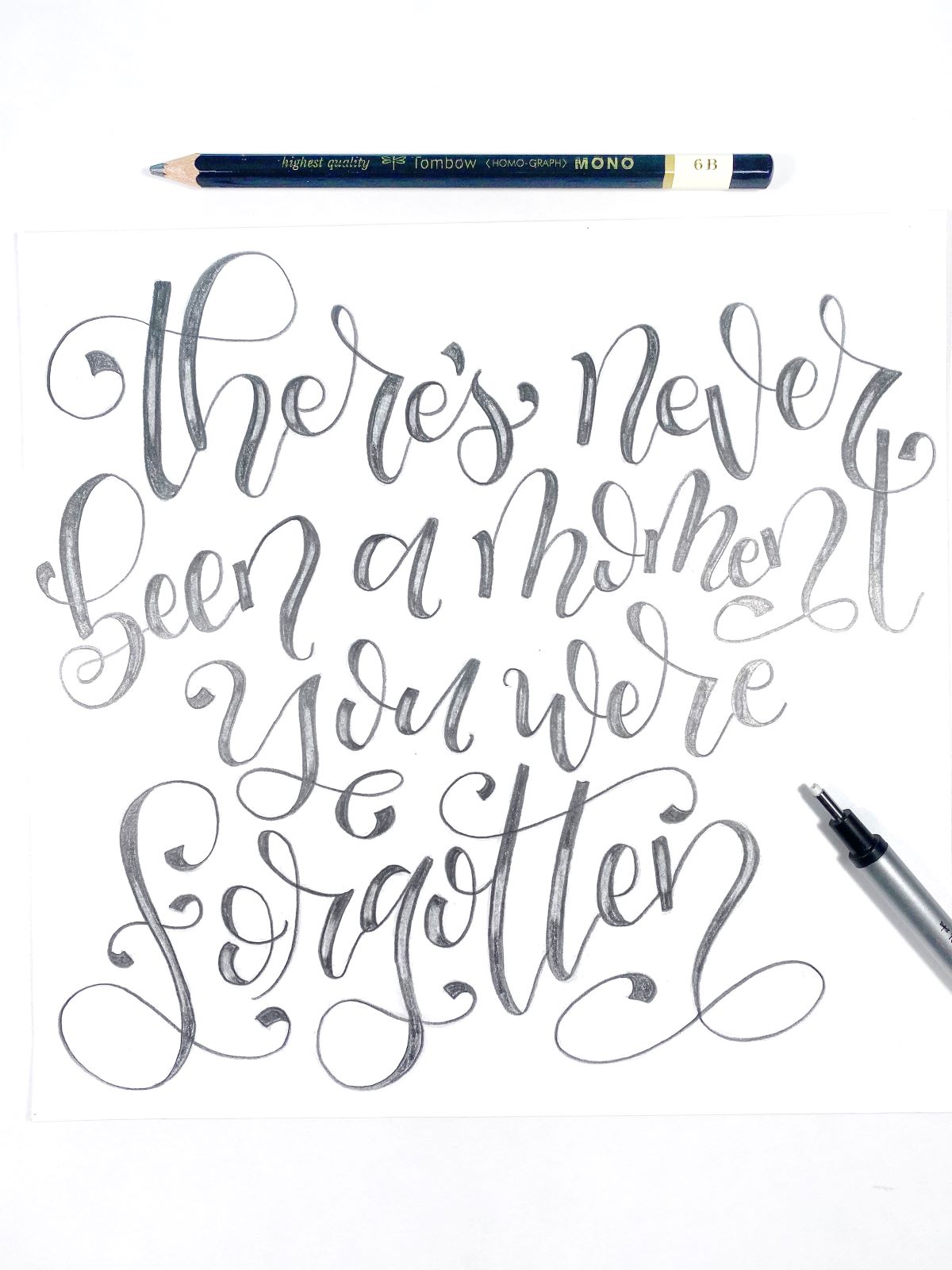 There's another way you can use these pencils for your lettering (beginners this one is for you!). Practice your flourishing with them! When you first start to flourish, a way that can help master it is to use a pencil to practice the hand movements you need. Once you've had enough practice with the pencil you can move up to a pen or maker and feel more confident!
Here's one more secret way to use these pencils in lettering: Use them to add a shadow! I'll sometimes use one of the B pencils to add shadows to my lettering. It gives it a whole different look!
So, why Tombow's MONO Drawing Pencils? They are not just any pencil! These pencils are high quality and professional grade. They have a high density graphite that's encased in hard cedar wood. The lead core is adhered to the woodcase to make them break resistant. They write so smoothly. Like butter on your paper! The MONO Drawing Pencil Set has pencils that come in different degree ranges. This gives you more choices for your art. I typically use a 2H, 3H or 4H for sketching since these have the lightest lead (for an in depth look at the different degrees, check out this post: MONO Drawing Pencil Set Basics).
TOP TOOL #2 – Tombow MONO Dust Catch Eraser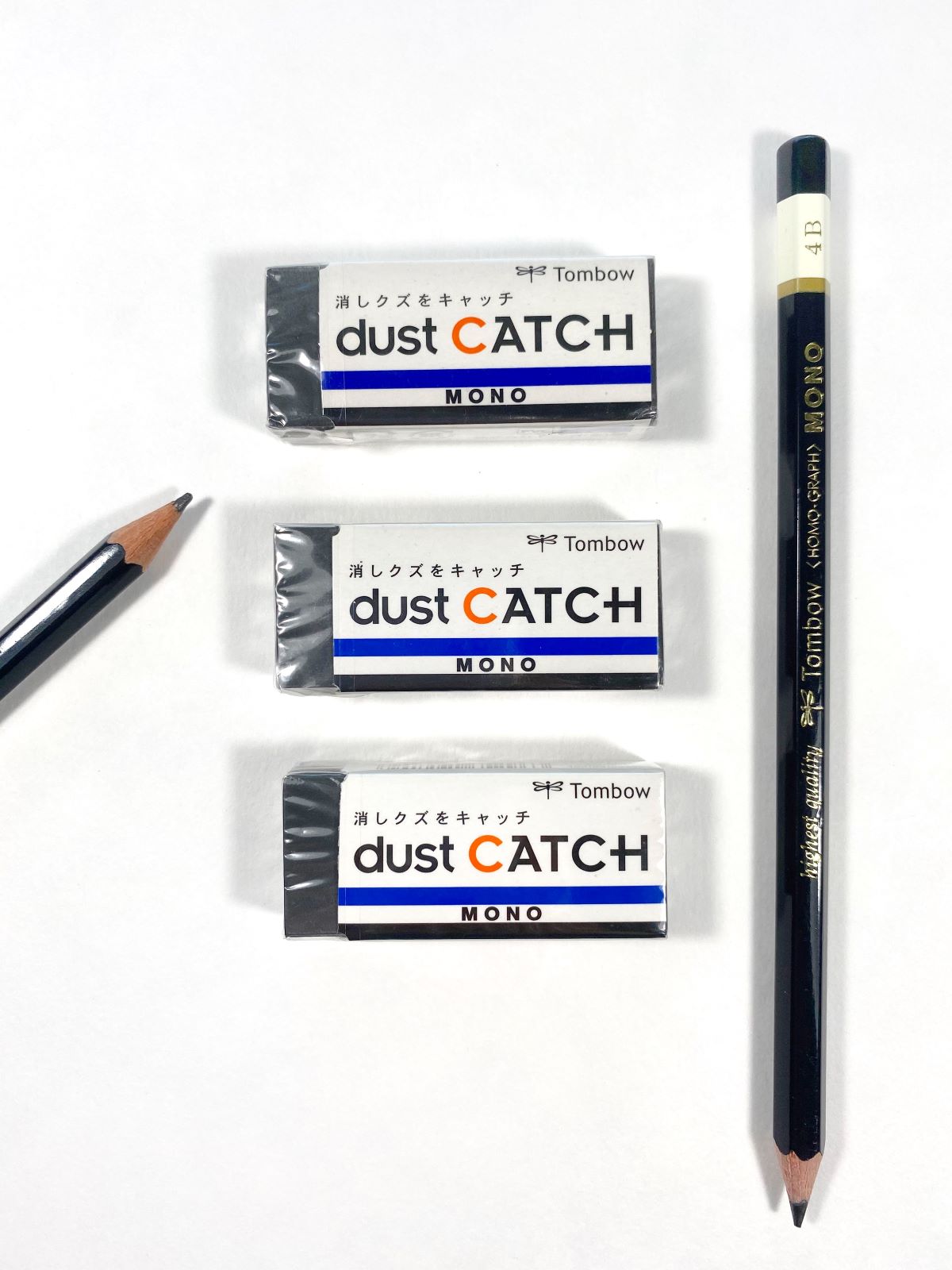 My second top Tombow tool is the MONO Dust Catch Eraser. If you're going to use pencils to sketch out your composition, you'll need an eraser! I'll let you in on a little secret: I NEVER get the composition right the first time! The sketching process usually takes me longer than the final inking. Once the quote is written out, I'll use the MONO Dust Catch Eraser to make adjustments to word placement and flourishing. This makes my letters look more bouncy and so on. There is always an adjustment to be made, so a good quality eraser is a necessity!
The MONO Dust Catch Eraser is my absolute favorite go to eraser. Because I tend to erase a lot, this eraser actually catches the little eraser bits instead of leaving them behind on your paper! Isn't that genius?! There's no mess to clean up! Plus, it lasts for a long time. It's a must have tool for lettering!
TOP TOOL #3 – Tombow Fudenosuke Brush Pens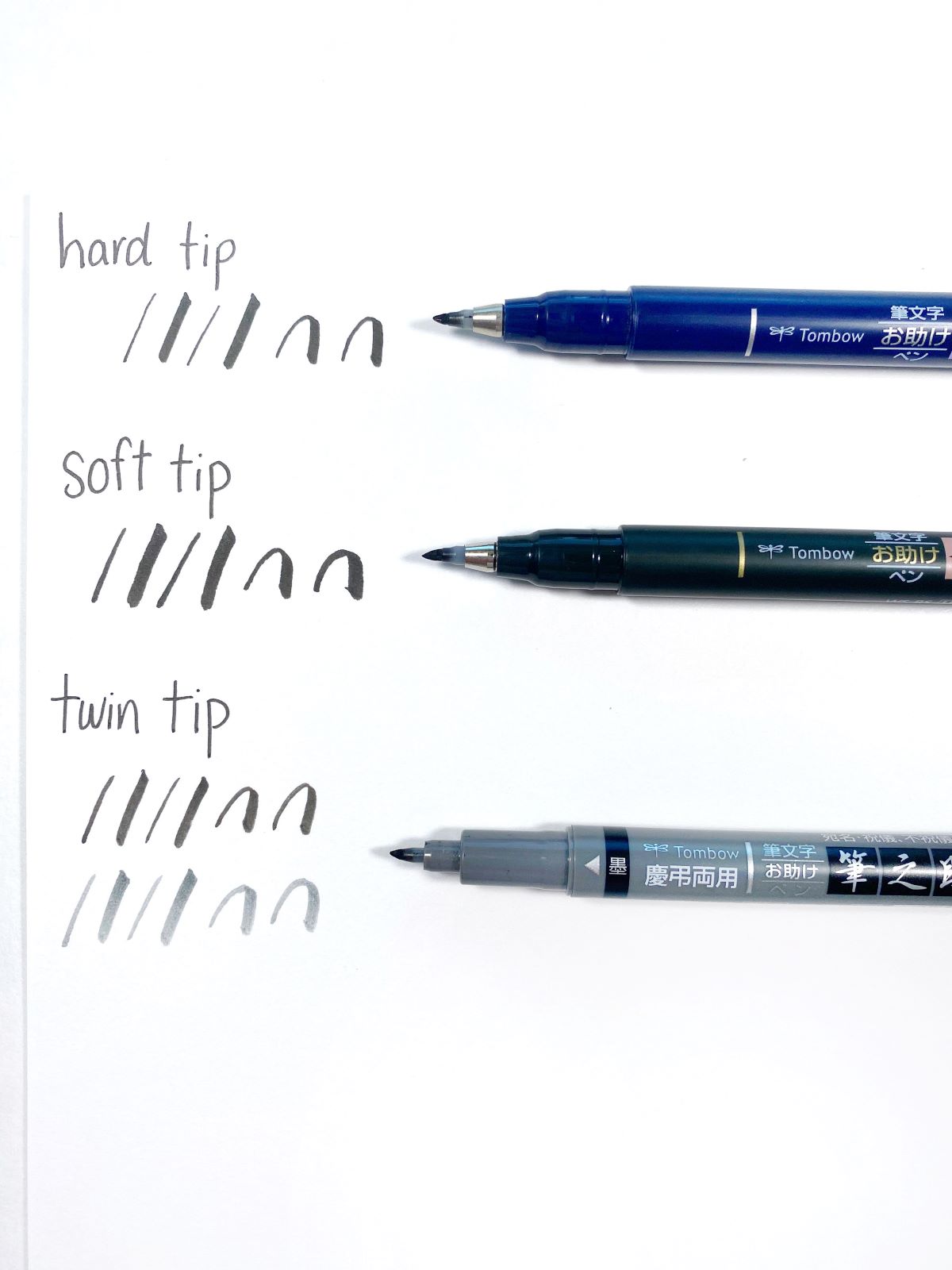 My third top Tombow tool is the Fudenosuke Brush Pen. Tombow has three Fudenosuke Brush Pens: the Hard Tip, Soft Tip and Twin Tip. All three are THE BEST for hand lettering of any level of artist, but especially for beginners.
The Hard Tip Fudenosuke Brush Pen is the first pen I'd recommend for anyone to start lettering with. Since the tip is not very flexible, it gives you much more control over your letters. Even though the tip is sturdier on this pen, you can still achieve thin upstrokes and thick down strokes. This pen can help build your confidence while practicing basic strokes and flourishes. It's also the perfect tool for intermediate and advanced artists as well.  It helps to keep your letters smaller, making longer compositions much easier. Another way I love using this pen is in combination with the Dual Brush Pens. Once I've lettered out my words with a Dual Brush Pen, I trace around the outside of my letters with the Hard Tip Fudenosuke Brush Pen. I then add a shadow line to all the down strokes. It works perfect for shadows! To see what I mean, check out this post: Blending and Shadowing Techniques for Handlettering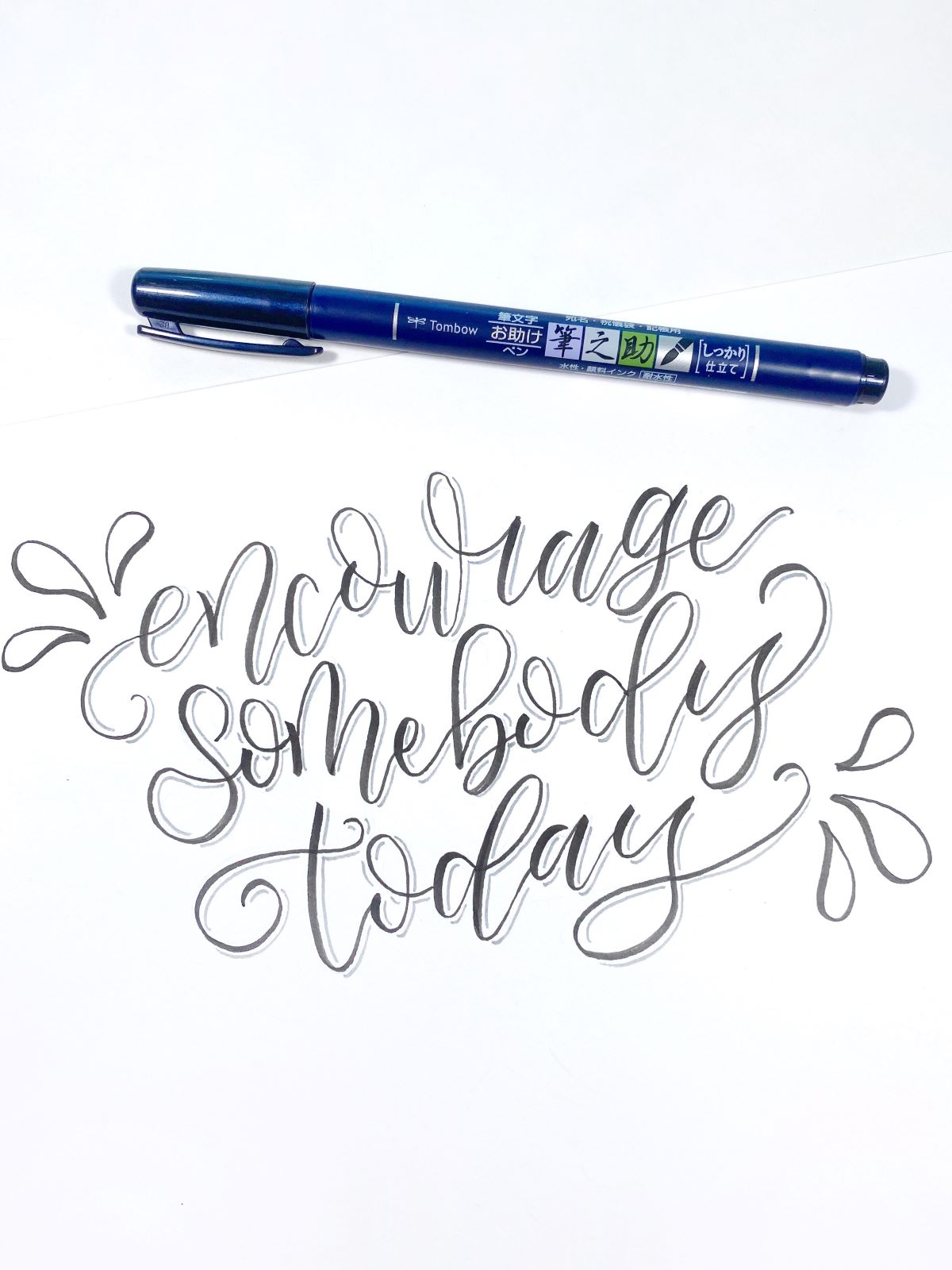 The Soft Tip Fudenosuke Brush Pen has a tip that is more flexible.  Your down strokes will be thicker. Even though it is more flexible, you still get great control over your letters. It's another great tool for long compositions and flourishing!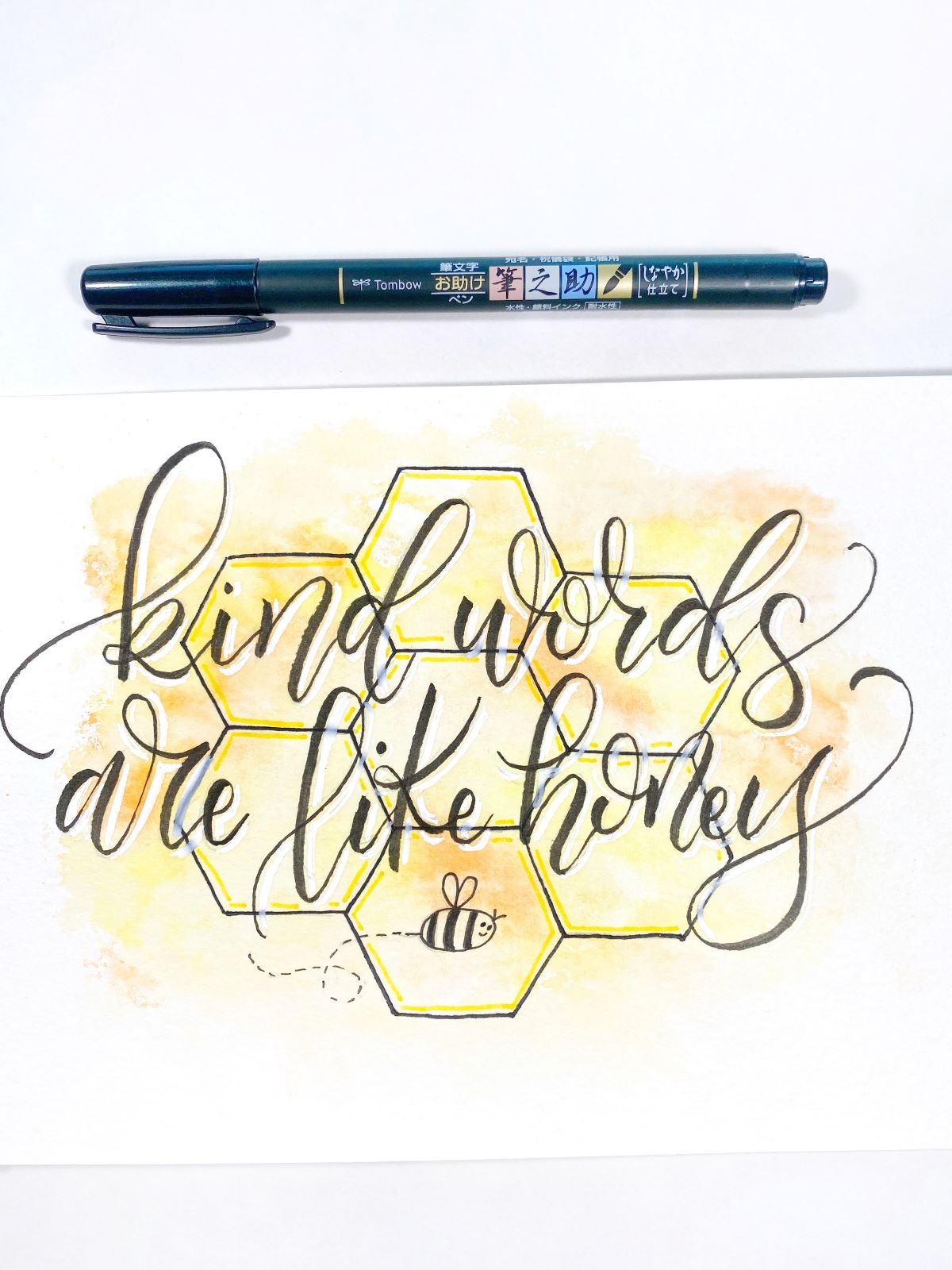 The Twin Tip Fudenosuke Brush Pen is big favorite of mine! It's essentially two pens in one. The tips on this pen are more like the Soft Tip Fudenosuke Brush Pen. There's flexibility but it still gives you amazing control. I primarily use the black tip to letter out my words and the gray tip to add a shadow.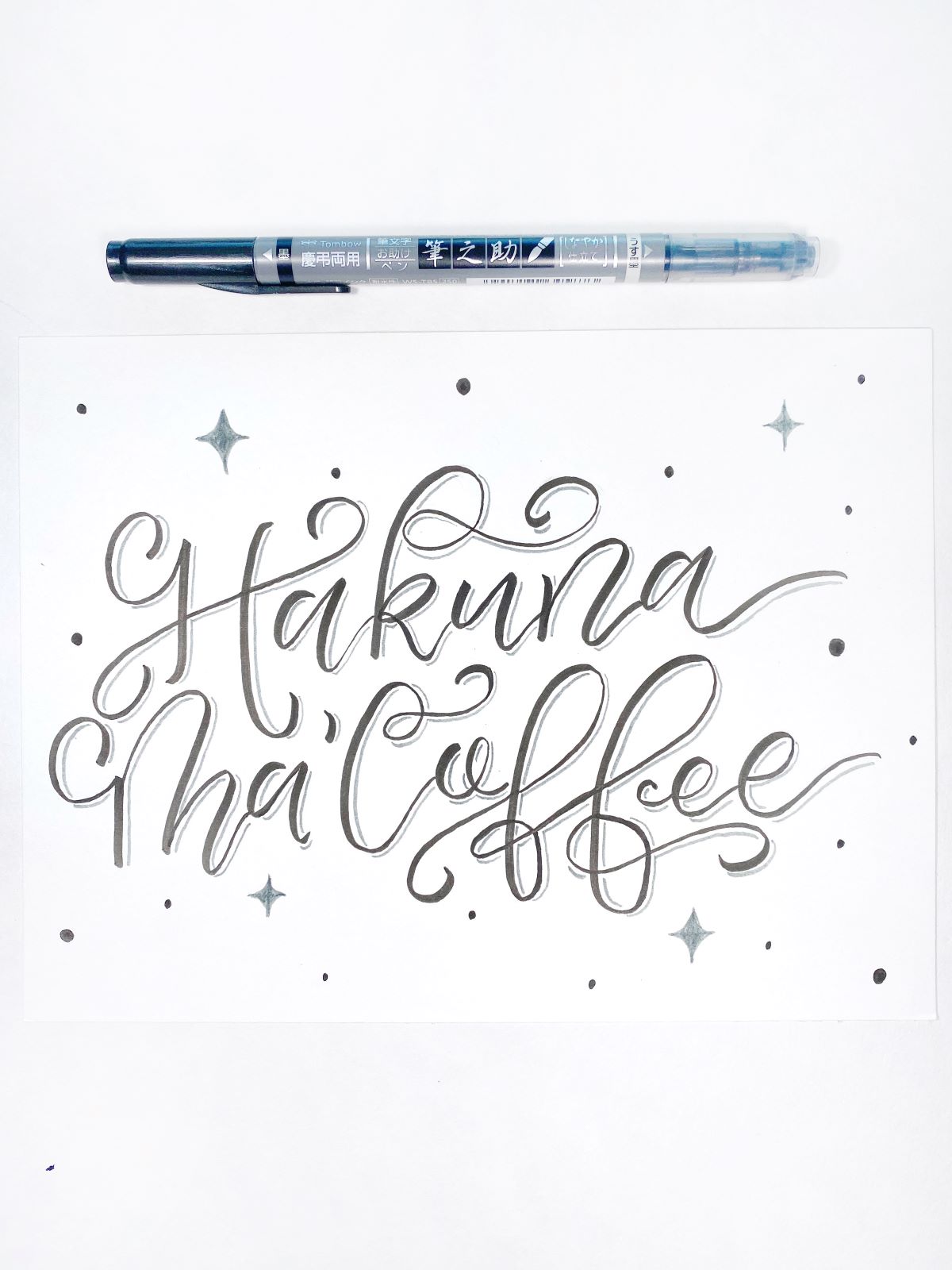 If you're looking to practice with the Fudenosuke Brush Pens, Tombow has free worksheets you can download and print at home. Just click the link below!
TOP TOOL #4 – Tombow Dual Brush Pens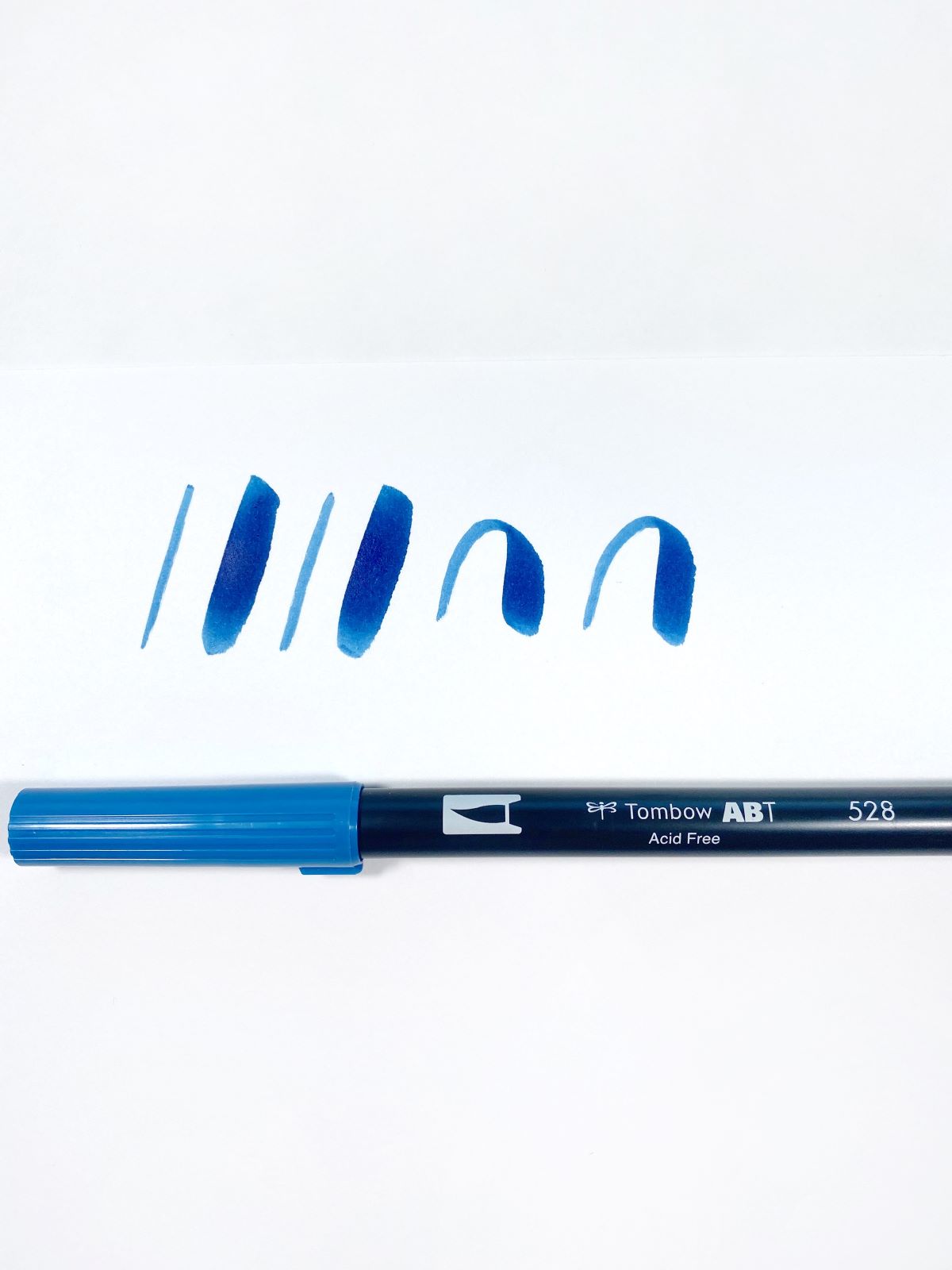 My fourth top Tombow tool is the Dual Brush Pens. The Dual Brush Pens are an absolute must for hand letterers! With 108 different colors, there are SO any possibilities as to what you can create. The brush tips on these pens are much more flexible than the Fudenosuke Brush Pens BUT they still have great control. For beginners, I definitely recommend starting with the Fudenosuke Brush Pens then moving up to the Dual Brush Pens. The flexibility of the brush tip gives you either a light, medium or heavy down stroke depending on how much pressure you apply. They can also take as much pressure as you can apply. The brush tip won't break and the tip will return to it's normal shape automatically! Magic!
Another great feature about these pens is that they are water based. You can blend colors together to create blended lettering or use them for water coloring.  The tips also self clean after you've blended with them!
They also have a fine tip on the other end, making them perfect to use to make any corrections in your letter transitions, to correct any shaky lines, and monoline lettering.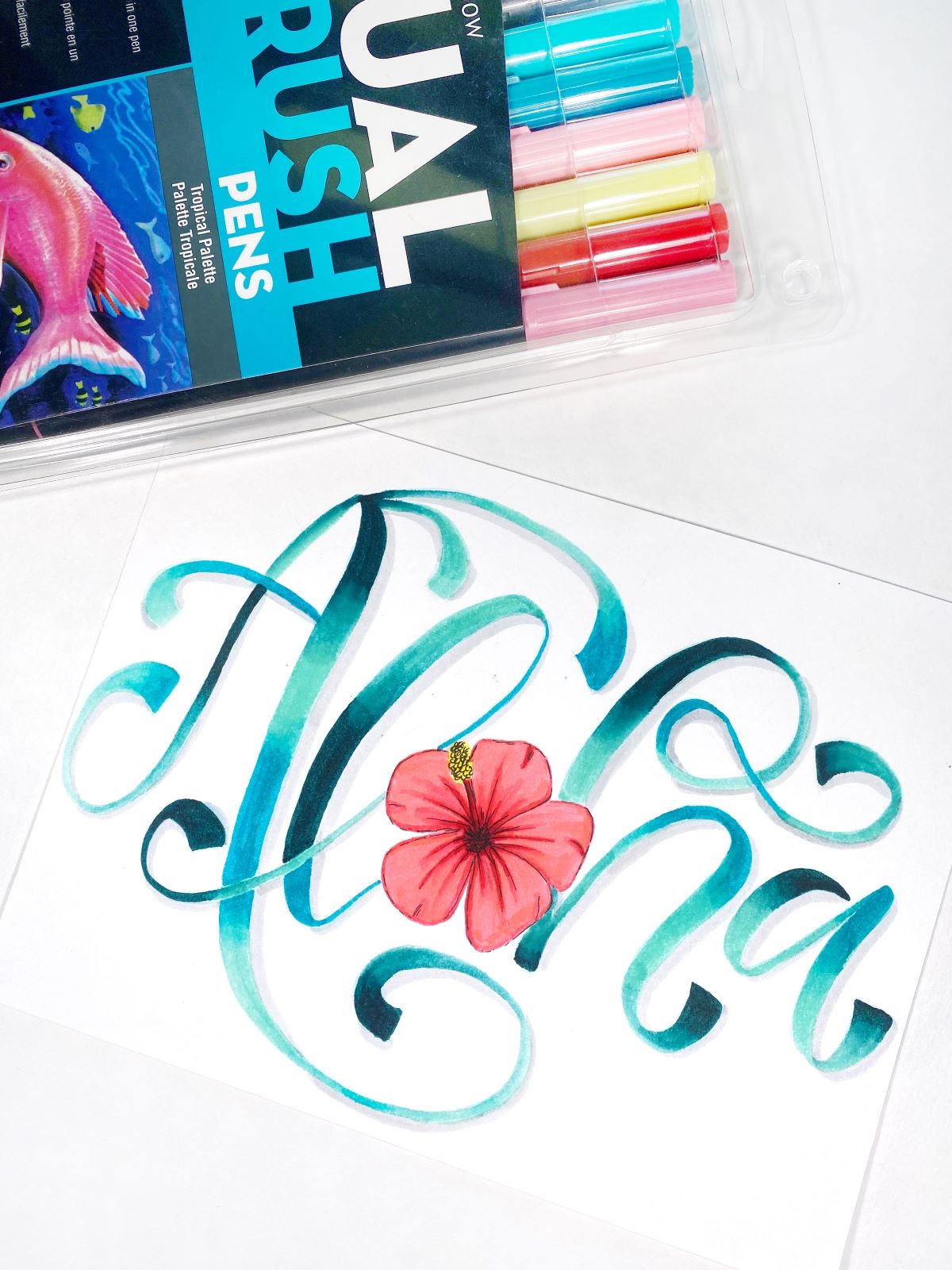 TOP TOOL #5 – Tombow MONO Drawing Pens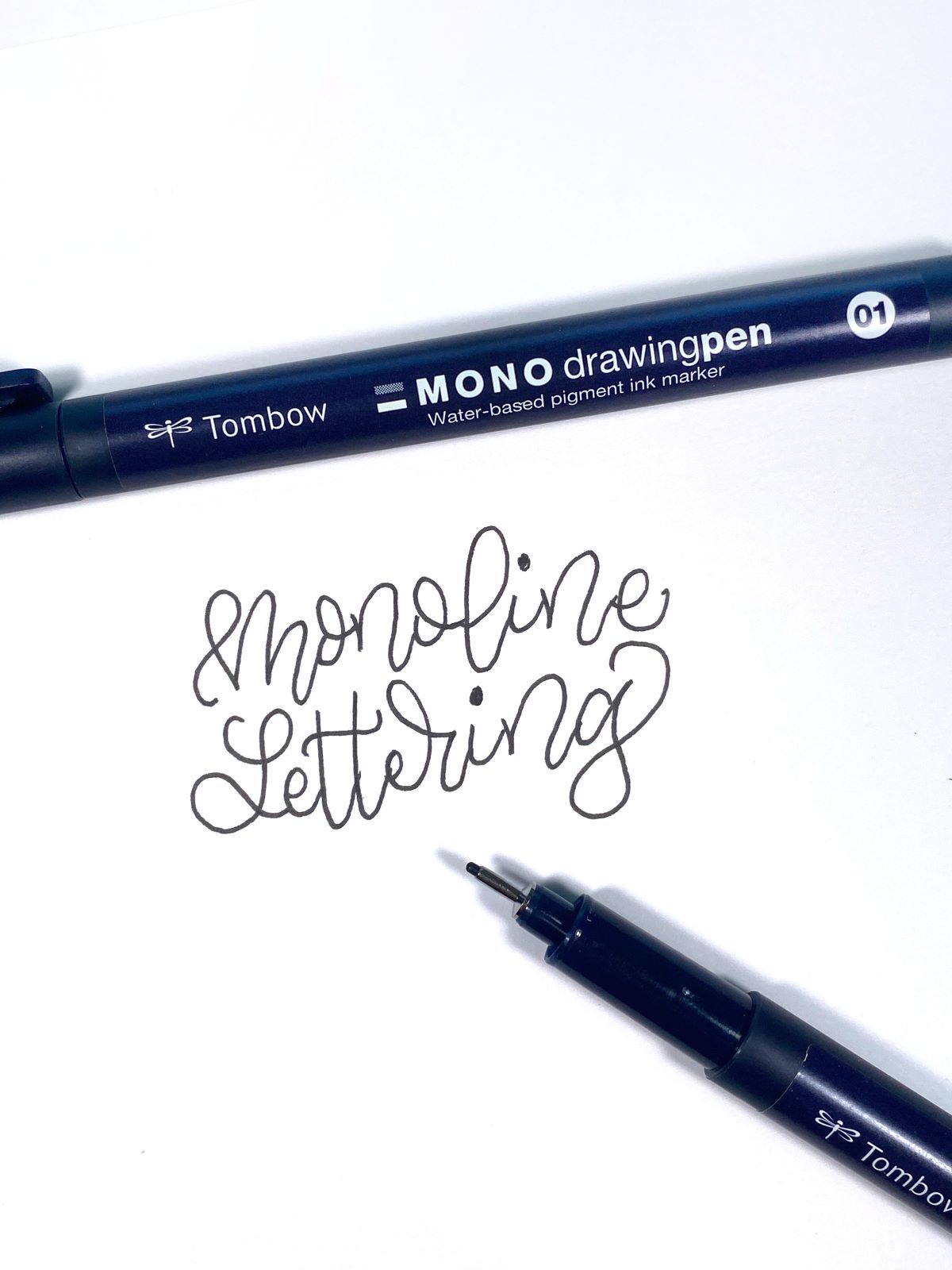 The MONO Drawing Pens round out my list of top Tombow tools. These pens are perfect for monoline lettering since there is no flexibility with the tips. This helps keep all of your lines in your letters consistent. You can also use these pens to trace your letters if you've used a Dual Brush Pen for your lettering. They are also great for creating illustrations or embellishments around your lettering to give it more depth.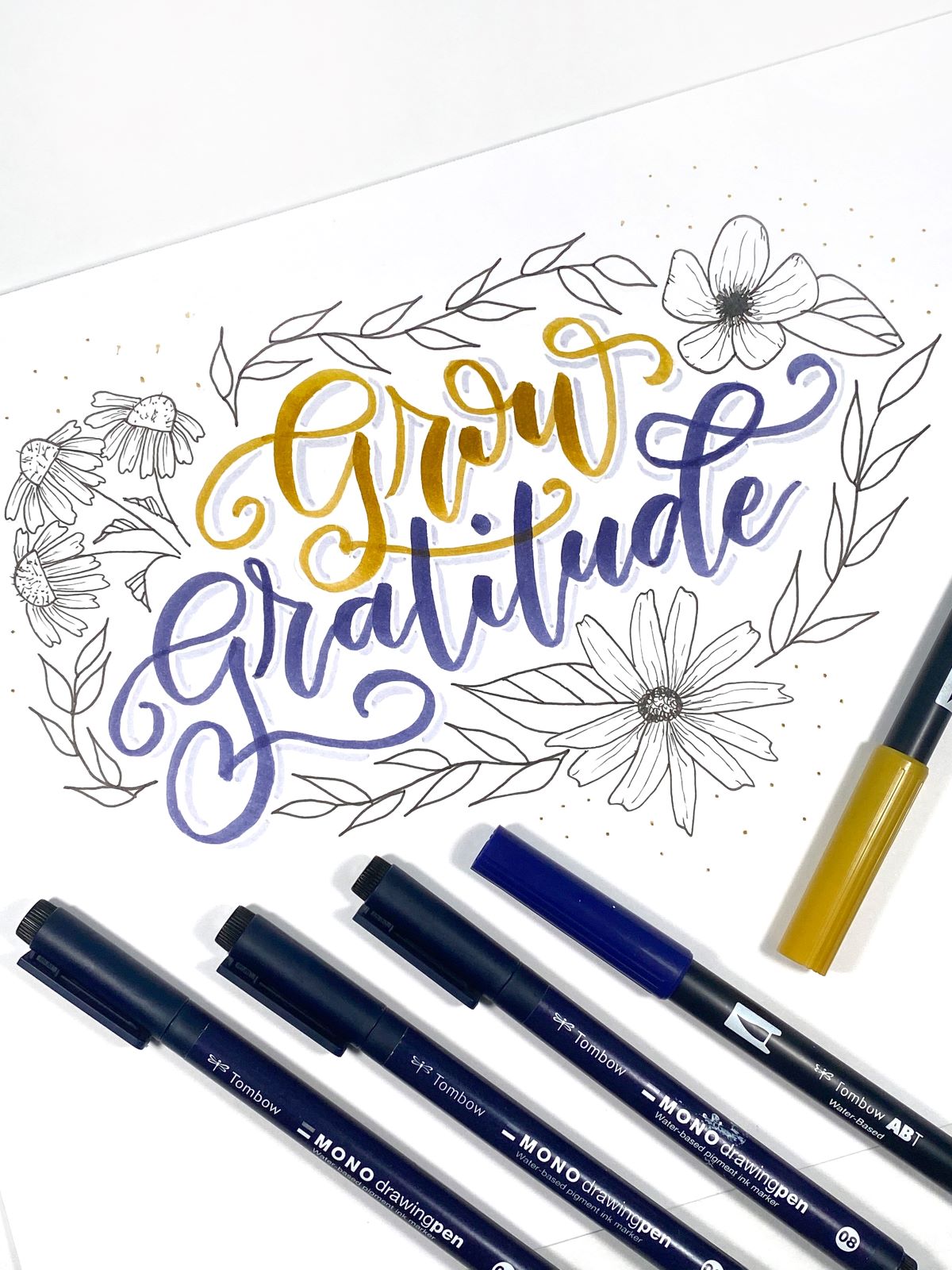 Those are my top five Tombow tools for lettering! For more lettering inspiration, check out these posts!
See you next time!
Mandy
The post The Top Five Tombow Tools For Hand Lettering appeared first on Tombow USA Blog.